AZ woman speaks out on military rape cases, pushes for legislation
Posted:
Updated: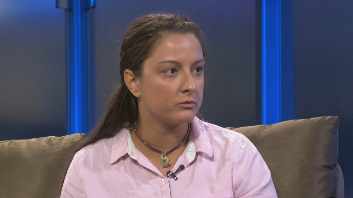 Panayiota Bertzikis (Source: CBS 5 News)
SCOTTSDALE, AZ (CBS5) -
New legislation to take the power to prosecute and overturn military rape convictions out of the chain of command is gaining ground in the senate.
An Arizona woman is part of a class-action lawsuit accusing the military of a major cover up and rape culture.
Military rape survivor Panayiota Bertzikis now lives in Scottsdale and is in this month's Glamour magazine, talking about victims who have been denied justice and are taking matters into their own hands.
Resentment is rising in the ranks and the thousands of military rape victims who've stayed silent for years are finally finding a voice.
"For most cases, a rapist doesn't just attack once," Bertzikis said.
Bertzikis runs the Military Rape Crisis Center in Scottsdale.
"If you name the rapist or name the command that covered it up, more likely than not, you're gonna have others who are coming forward," Bertzikis said.
She's part of the class-action lawsuit that sparked the congressional hearings demanding change at the Pentagon.
"I was the in the Coast Guard stationed in Burlington, VT," Bertzikis said.
Bertzikis signed on in her early 20s, proud to serve after her family immigrated to America from Greece.
Bertzikis said she was raped while on a hike with a shipmate.
"He punched me, he raped me. I was beaten. I was bruised up, bleeding, my tooth was broken," Bertzikis said.
She said when she reported the rape to her chief, he locked her in a janitors closet, telling her it was for her own safety. Hours later, the threat from her rapist came true.
"He even told me, 'No one's going to believe you,'" Bertzikis said.
The chief told her it had to all be just a misunderstanding.
"I saw him every single day. He lived in the barracks across the hallway from me," Bertzikis recalled.
Eleven months later, she was discharged for "failure to adjust."
"I never would have even imagined that, you know, my worst enemy is wearing the same exact uniform as me," Bertzikis said.
VA Military sexual trauma counselor Stephanie Dove said the Valley VA hospital sees 2,000 veterans a year reporting military sexual abuse. She said most are never reported for fear of retaliation.
"One in four women come to the VA reporting instances of military sexual trauma, one in 100 men," Dove said.
"There's depression, increased substance abuse, increased suicide. A whole range of issues that go along with surviving military sexual trauma," Dove said.
Dove said being acknowledged as a victim can be a critical part of the recovery, but less than 1 percent of the estimated 26,000 military sex abuse cases a year result in a court-martialed conviction. Even then, there are cases like Lt. Col. James Wilkerson's.
His jury conviction was overturned by a commander who simply vouched for his character. Wilkes has been reassigned to Davis Monthan Airforce Base in Tucson where most of his victim's family lives.
"I feel the only change right now is taking it out of the chain of command," Bertzikis said.
The chair of the Armed Services Personnel Committee, Sen. Kirsten Gillibrand, has proposed legislation to do just that: make sure rape cases are assigned to military lawyers, no potentially biased supervisors of the accused.
Copyright 2013 CBS 5 (KPHO Broadcasting Corporation). All rights reserved.