Bear activity closes Huachuca Canyon
Posted:
Updated: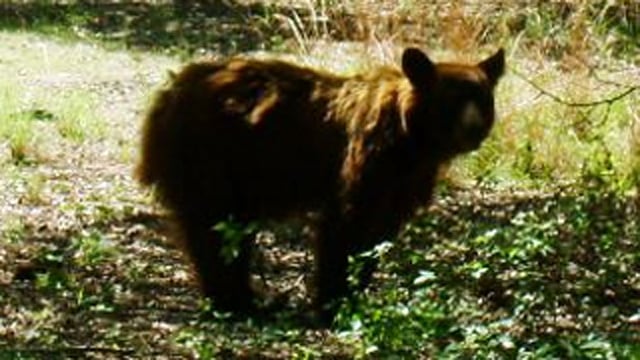 Bears were seen in the past week at the Huachuca Canyon. (Source: Fort Huachuca staff)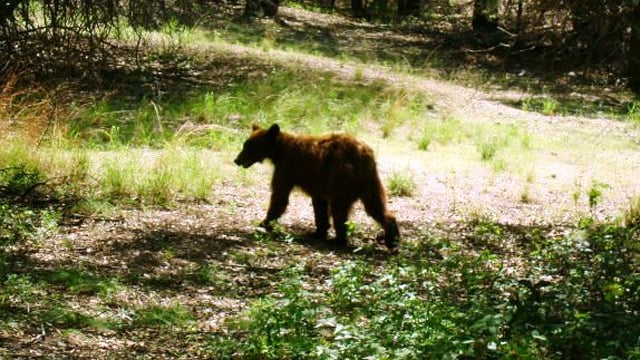 The gate at the mouth of the canyon is currently locked. (Source: Fort Huachuca staff)
FORT HUACHUCA, AZ (CBS5) -
Increased bear activity has closed Huachuca Canyon south of Sierra Vista.
The gate at the mouth of the canyon is currently locked to prevent vehicle access, said Fort Huachuca spokesman Tanja M. Linton.
The closure also affects hikers, bikers and runners.
The canyon is being monitored by Fort Huachuca's environmental personnel and will be reopened when they determine the bears have moved on and no longer pose a risk to recreational users of the canyon.
Earlier this month, an increase in the number of bears on the Mogollon Rim forced an emergency closure of a Forest Service road east of the Mogollon Visitor Center.
Forest Road 171 to Young Road is closed for the public's safety, according to a release from the Apache-Sitgreaves National Forest.
The road is just south of Arizona Highway 260. There is no access or dispersed camping until the area is cleared of bears.
Don't feed the bears - A fed bear is a dead bear
Wild bears have a natural fear of humans and will attempt to avoid people and developed areas - fed bears do not.
Fed bears will abandon vital natural food sources for human foods and garbage.
Wild bears quickly become conditioned to being fed and will teach their cubs to approach people to do the same.
When camping in bear country
Always keep a clean camp; black bears have an excellent sense of smell that can span miles. For bears, garbage equals food.
Don't leave food out. Store it in bear resistant storage units or a hard-shelled vehicle, or hang 10 feet from the ground and 4 feet from top and side supports.
Always store food away from your sleeping area. Where possible, food storage and preparation areas should be at least 100 yards from your sleeping area.
Use bear-resistant trash receptacles provided at developed campgrounds.
Keep pets on a leash and inside at night as they may attract bears.
Carry EPA-registered bear pepper spray.
Keep your sleeping area, tent and sleeping bag free of food, toiletries (shampoo, antiperspirant, etc.) and odors.
Keep a flashlight and bear spray readily available at all times.
Set up tents in a line with space between.
When hiking in bear country
Let someone know where you are going and when you plan to return.
Read all signs at the trailhead and carry bear spray.
Scan ahead for signs of bear activity.
Watch for bear signs such as scat, claw marks, diggings, logs or stumps torn apart.
Hike in a group, keep children close at hand. Make your presence known, call out, "Hey bear, ho bear."
If you take your pet, keep them on a leash.
If you encounter a bear
As exciting as they are to view, especially when seen with their cubs, bears should always be considered unpredictable and potentially dangerous. Remember, distance equals safety. Black bears will usually detect your presence and flee from the area.
If a bear is visible, but not close, alter your route to move away from the area.
If the bear approaches, remain calm. Do not run. Continue facing the bear, and slowly back away. If the bear continues to approach, group together and pick up small children. Try to scare the bear away by shouting and acting aggressively.
If the bear attacks, it is suggested to fight back using everything in your power e.g., sticks, fists, rocks and/or an EPA-registered bear pepper spray.
Copyright 2013 CBS 5 (KPHO Broadcasting Corporation). All rights reserved.