UPDATE
30K bottles of water delivered to Havasupai flood victims
Posted:
Updated: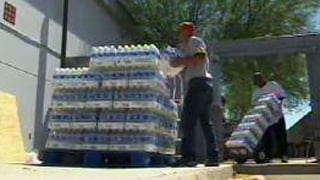 (Source: CBS 5 News)
PHOENIX (CBS5) -
Hundreds of members of the Havasupai Tribe forced to evacuate are waiting to learn if their water is safe, after flooding last weekend knocked out a water well pump, its backup generator and caused a break in a sewage line.
The American Red Cross Grand Canyon Chapter said it closed it's shelter in Peach Springs, for Supai residents, on Friday morning.
The Red Cross said residents were going to be brought to the shelter via helicopter from within the Grand Canyon to Hualapai Hilltop, and then bus more than an hour to Peach Springs, but no one showed up at the shelter Wednesday or Thursday.
Volunteers from Mohave, Yavapai, Coconino and Maricopa counties set up the shelter in the Hualapai Tribal Administration multi-purpose building at 470 Hualapai Way in Peach Springs, on Wednesday.
St. Mary's Food Bank Alliance took about 30,000 bottles of water, Thursday morning, from Phoenix to Hualapai Hilltop, and the 20 pallets were flown into the Grand Canyon.
Once the power is restored to the generators, and the water begins to flow, it will take between three to five, for water testing to determine if the water is again safe to drink, said St. Mary's Food Bank Alliance spokesman Jerry Brown.
St. Mary's water reserves were already low due to the above-average summer temperatures, and the emergency delivery will further deplete those reserves, Brown said.
The Food Bank is asking the public to donate bottled water in August to replenish supplies.
Water donations are accepted at St. Mary's Food Bank locations at 2831 N. 31st Ave. in Phoenix, and 13050 W. Elm St. in Surprise, as well as all Goodwill store locations in the Valley.
Monetary donations can also be made at www.firstfoodbank.org, with every $2 donation allowing the Food Bank to purchase a case of water.
Copyright 2013 CBS 5 (KPHO Broadcasting Corporation). All rights reserved.