UPDATE
Man arrested in fatal I-10 rollover crash in Phoenix
Posted:
Updated: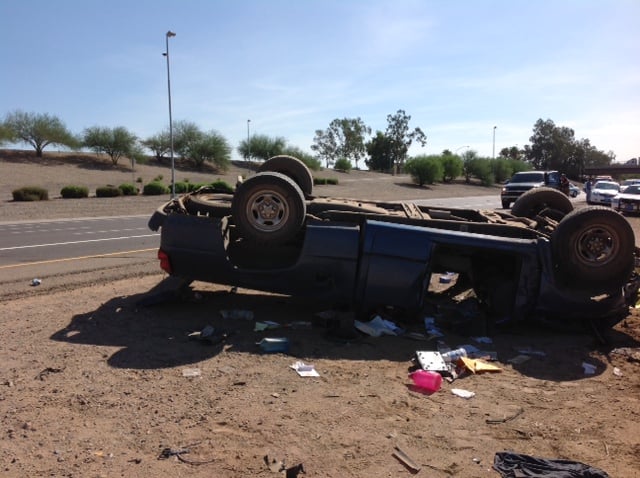 Fatal I-10 rollover at 67th Avenue. (Source: CBS 5 News)
PHOENIX (CBS5) -
A northern Arizona man has been arrested in connection with a Sunday morning rollover crash on Interstate 10 that killed a 28-year-old woman.
The Department of Public Safety said Joshua Bia, 26, of Chinle, is accused of second-degree murder in the crash that happened about 8:45 a.m. at 67th Avenue and I-10.
According to the probable cause statement, Bia was drinking at his friend's house in Tempe on Saturday and then went to a Casino Arizona to have some more drinks. He also drove to Mill Avenue and Baseline where he continued to drink. Police said Bia also said he was smoking marijuana.
The probable cause also said Bia went home and slept for a few hours before he was seen driving at speeds between 85 and 100 miles per hour on I-10.
Witnesses told DPS the vehicle traveling westbound was swerving and struck the rear of a pickup truck, causing it to rollover into the median.
The 28-year-old woman was in the pickup and was thrown from the vehicle. She died at the scene. The man driving the truck was taken to St. Joseph's Hospital with a lacerated spleen, multiple abrasions and a laceration to the head. He is expected to be OK, Cook said.
Bia was treated at the scene.
Police said Bia had a breath test and it showed blood alcohol levels of .174 and .178, more than twice the legal limit of .08.
He faces felony charges of second-degree murder, aggravated assault causing injuries, aggravated assault with a deadly weapon and criminal damage.
The crash caused westbound I-10 at 67th Avenue to be closed for about five hours Sunday.
Copyright 2013 CBS 5 (KPHO Broadcasting Corporation). All rights reserved.