Sheriff's posse makes mistakes; Aims to fix before school year
Posted:
Updated: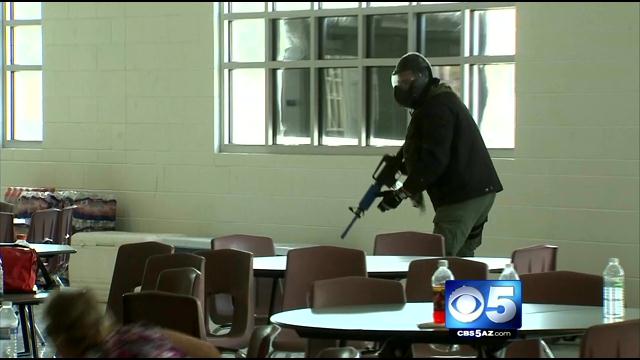 Simulated training exercise for the Maricopa County Sheriff's Posse. (Source: CBS 5 News)
QUEEN CREEK, AZ (CBS5) -
The sounds of gunshots and explosions shook the walls of Queen Creek High School on Saturday afternoon. The sounds were part of a simulated training exercise for the Maricopa County Sheriff's Posse.
As teachers and students get ready for a new school year, the sheriff's office is preparing to send members of the posse back to school as well. Just days before school starts, however, those training to be the ones protecting the schools have a lot of training they need to get done.
"Things are very fast, that's why you go through this training," Garrett Blackwell said.
Blackwell, a member of the sheriff's posse, was on the receiving end of a scenario gone wrong.
"I played the role as a teacher," Blackwell said.
Unfortunately for him, he also took a direct-shot in the chest by a simulated round of gunfire.
Blackwell played the role of an "innocent teacher" trying to help members of the posse find another man acting as a terrorist. In his scenario, a posse member accidentally shot Blackwell.
"That's why you go through these scenarios - things change," he said. "That's why this training is so important."
While the posse trains to eliminate those mistakes, Maricopa County Sheriff Joe Arpaio continues to hear criticism for placing armed volunteers in valley schools.
"I don't care what they say, we're going to do it again," Arpaio said. "If they don't like it, that's tough."
Arpaio said he's confident members of the posse will be useful if a serious threat arises at a central valley school. He said he placed members of the posse on school grounds following the attack at Sandy Hook Elementary in December 2012 that killed 27 people.
"It's just the right thing to do," Arpaio said about keeping the posse in schools.
Despite the mistakes made in Saturday's training, Blackwell said he and the rest of the posse will be ready for the school year next month.
Copyright 2013 CBS 5 (KPHO Broadcasting Corporation). All rights reserved.