Murder charges officially dropped against Sneiderman
Posted:
Updated: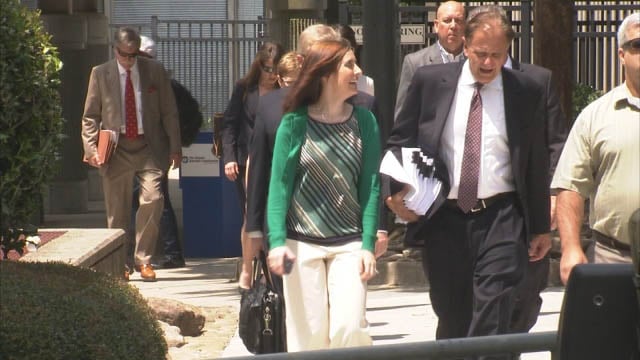 DECATUR, GA (CBS46) -
DeKalb County District Attorney Robert James has been emphatic that Andrea Sneiderman somehow played a role in the murder of her husband Rusty. On Friday, he empathically stated he was wrong.
Sneiderman was accused of conspiring with her former boss and lover, Hemy Neuman, to have her husband killed.
Last year, Neuman was found guilty but mentally ill, in Rusty Sneiderman's murder. Neuman is serving a life sentence for the murder. But, new evidence presented by the defense has a district attorney changing his tune.
"I have been prosecuting cases for 14 years," James said. "I have never as assistant DA, as solicitor, and now as the elected district attorney; I have never indicted a case where based on the evidence I had in front of me. I did not believe the individual was guilty of the charges that I was indicting them for."
James went on to say, ethically trying this case is the wrong thing to do.
"I have never tried a case where I have doubts, or a possibility I could be wrong. That's why I made this motion," James said.
DeKalb County Superior Court Judge Gregory A. Adams, approved James' motion.
Outside the courthouse Sneiderman's attorney, J. Tom Morgan, said despite the charges of malice murder, felony murder, and aggravated assault getting dropped there was still a gag order in place and they could not discuss the recent developments.
Friends of Andrea Sneiderman said this was a big win for Andrea Sneiderman.
"She has been victim the whole time, she has been a victim," Ryan Stansbury said. "She was a victim of Hemy Neuman, and now a victim of the system and the people we trust to uphold the law."
Rusty Sneiderman was gunned down in 2010 in the parking lot of the daycare center in Dunwoody where he had dropped off the couple's children.
James said this has always been a case of circumstantial evidence, but felt that after reviewing the evidence from the defense he began to doubt his original charges.
There are still 13 counts against Andrea Sneiderman that include perjury, making false statements, hindering the apprehension of a criminal, and concealment of material facts.
Jury selection is scheduled for Monday. Adams said they have 283 potential jurors to go through, and he will take as long as it needs to take to find an unbiased jury pool to give Sneiderman a fair trial.
"I don't care if it takes us five weeks to chose a jury," Adams said.
The defense has asked that Andrea Sneiderman's bond be dropped from $500,000 to $10,000, that she is allowed to communicate with friends, even if they are set to testify, and to have her ankle monitoring bracelet removed. The judge is still considering that motion.
Adams also approved a motion by the prosecution to allow a friend of Neuman's to testify. Melanie White, according to prosecutors, can prove that Andrea Sneiderman had a sexual relationship with Neuman. Prosecutors said White has details of a romantic relationship between the two in the summer and fall of 2010.
Check back with www.CBSAtlanta.com for updates.
Copyright 2013 WGCL-TV (Meredith Corporation). All rights reserved.
Murder charges officially dropped against Sneiderman

More>>