ASU Wrestling excited about incoming class
Posted:
Updated: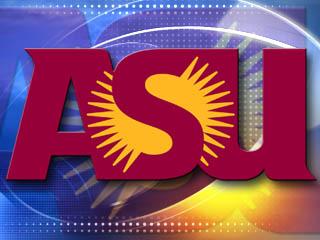 © cbs 5
PHOENIX (CBS5) -
With the start of the 2013-14 athletic calendar on the horizon, several Arizona State University programs are looking to their new crop of incoming student-athletes to maintain a high level of performance, improve upon a solid year or – in the case of the ASU wrestling team – make huge strides toward returning as one of the top teams in the nation.
Head coach Shawn Charles and assistant coach Lee Pritts have put together one of the top recruiting classes in the nation for the coming season with a combination of great prep school talents as well as a solid batch of college transfers that can make an immediate impact. Couple that with an already young and talented group of student-athletes (ASU had just two seniors on last year's squad while the rest with freshmen and sophomores) and there's a lot to be excited about this season.
Mid-year transfer Coltin Fought is someone who will come right in and make a difference for the Sun Devils in the lower weights. Fought comes to the Sun Devils after an impressive freshman campaign at N.C. State that saw him advance to the NCAA Championships at 125 pounds after posting 28 victories on the year - the third most by a freshman at N.C. State. He was third at the ACC Championships and recorded 10 of his 11 pins on the season in the first period.
More recently, Fought was fourth at the US Junior FILA Nationals, which earned him a spot at the U.S. World Team Trials a couple of weeks ago where he took third in the Freestyle Challenge tournament in the 55kg category.
Local standout Seth Monty was part of ASU's original signing class released back in January. The Mesa native out of Mountain View was fourth in the state tournament as a freshman and state champion as a sophomore at 140 pounds while being the runner-up as a junior while moving up to the 145 weight class.
Monty finished his senior season with a third-place finish at the Reno Tournament of Champions and won the high school elite section at the Freak Show while taking the state title for the second time. He earned two high school All-America honors during his prep career and was seventh at Junior Nationals.
Kaleb Baker was another signee for the Fall signing class and had an incredible career at Christian Brothers High in Collierville, Tenn. , where he was a four-time state finalist and three-time state champion in the middle weights.
Baker compiled a career record of 156-10 with an incredible 109 pins (92 of which came in the first period). He was the 2013 Outstanding Wrestling at the Tennessee state tournament after pinning four opponents in a total of 1:59 on his way to the title.
Ranked as the #82 recruit overall in the nation by InterMat, and finished his senior season ranked in all national polls at 152 pounds. Baker also adds value outside the mat as well, scoring a 29 on his ACT exam and donating many hours each year to community service, which including coaching inner-city youth. He was also an Asics High School All-American.
Demechio "Mech" Spraggins signed with Arizona State after the initial signing day but his addition to the team is no less notable. Spraggins was the 2013 Illinois state champion at 138 pounds for Belleville Township West to complete a senior season that saw him go 48-1 on the year.
Spraggins was a second-place finisher at 103 pounds as a frosh and second at 119 as a sophomore before finishing fourth during his junior season at 126 pounds. He finished his career with a 165-11 record. Like Baker, Spraggins was an Asics High School All-American.
James Brundage represents one of several transfers to Arizona State this year that will add depth to the program. A starter at Rider University the last two seasons, Brundage had 21 wins as a redshirt sophomore at 165 pounds and qualified for the NCAA tournament in 2012. He graduated from Rider with a 3.2 GPA in sociology and comes to the Sun Devils to pursue postgraduate work with one year of eligibility remaining.
In high school, Brundage was a New York state champion at 160 pounds in 2009 and posted a 138-22 career record on his way to NHSCA All-America honors.
Similar to Brundage, ASU also welcomes Nick Rex to the squad this season from Campbell University. A three-year starter for the Camels, Rex will have one year of eligibility remaining to compete for the Sun Devils.
He finished with a 25-16 record as a sophomore and was second at the SoCon Championships at 157 pounds, including three tech falls and six major decisions. A preseason All-Conference selection as a junior, Rex compiled a 16-6 record but was limited by injury throughout the season. He did help lead the Camels to a runner-up placement at the SoCon Championships – the highest ever for the program.
Rex earned two letters at Lake Gibson High in Lakeland, Fla., and was the runner-up in the state championship as a senior.
The Sun Devils will welcome the 2012-13 national junior college champion at 197 pounds in Josh DaSilveira out of Ellsworth Community College in Iowa Falls, Iowa. DaSilveira spent one redshirt season at N.C. State before moving over the Ellsworth last season where he was one of the most dominant wrestlers in North Central District on his way to the national title.
Coming out of high school at Cardinal Gibbons High, DaSilveira was a Florida high school champ and a two-time finalist. He was an NHSCA junior national champion despite only getting started in wrestling as a high school sophomore. He will have three years to compete three seasons at ASU.
Daniel Gusev is another junior college transfer out of Sierra College and will compete as a heavyweight at ASU. Guzev was the California state junior college champion this past season after a third-place finish as a sophomore. Both placements were good enough to earn All-America honors.
He finished his high school career as a two-time state place at the California state championships at Center High School, earning All-America honors both seasons.
Nick Karis comes to ASU by way of Decatur High in Federal Way, Wash., the same city as teammate and 2012-13 starter Ares Carpio. Karis was a three-time state placer, taking sixth as a sophomore and second as a junior at 160 pounds and third as a senior at 170 pounds.
Karis was fourth at sophomore nationals in Virginia and eighth at junior nationals while taking fifth overall at the Reno World's Tournament in 2012.
Jesse Calderon compiled a 163-37 record at La Quinta High in California, amassing 75 pins in his career and an eighth-place finish at the California state meet at 126 pounds as a senior.
The Sun Devils look to continue to be a team on the rise following a third-place finish at the 2013 Pac-12 Championships and four qualifiers to the NCAA Tournament this past season. Two of those qualifiers, 174-pound freshman Blake Stauffer and 184-pound sophomore Kevin Radford each return this season with another year under their belts.
The Sun Devil program is making strides to be one of the elite programs in the nation and will certainly be one of the most exciting teams to keep an eye on as the 2013-14 season progresses.
Copyright 2013 CBS 5 (Meredith Corporation). All rights reserved.