New pastry in the Valley rivals 'cronut' in NYC
Posted:
Updated: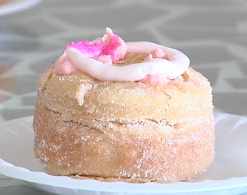 PHOENIX (CBS5) -
A baker in New York City came up with a pastry called a cronut. It's a cross between a croissant and a donut. When Phoenix pastry chef, Shari Cahn, heard about the treat she wanted to figure out how to make one.
For two weeks, after Cahn closed up her bakery, Victorian Cake Company, she tried to figure out the recipe.
"The first try was a disaster. We tried just frying croissant dough, which everyone else has probably tried to do as well. And it flew apart in the oil, the butter melts and you end up with a big mess," said Cahn.
After a few more trial runs, Cahn came up with the perfect croissando, which is her version of the cronut.
The pastry is shaped like a donut but tastes more like a croissant. There's cream inside, sugar on the outside with flaky layers like a croissant.
Kimberly Olson tried to describe the croissando.
"Doesn't taste like a donut, it doesn't taste like a croissant. I think there's properties from them in description."
The process of making a croissando can take up to three days.
"We make our dough, it needs to rests. We roll it, it rests. We roll it and fold it, it rests ... add the butter in, roll it some more, it rests, and then we take it out, cut the little donuts or croissandos as we like to call them, and we let them proof overnight," said Cahn.
Then the pastries are ready to be fried up like a donut, filled with cream and decorated with glaze and sprinkles.
The croissando is $5.
Copyright 2013 CBS 5 (KPHO Broadcasting Corporation). All rights reserved.