ASU Baseball solidifies 2014 signing class
Posted:
Updated: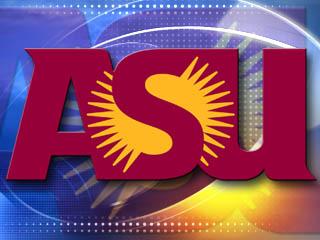 © cbs 5
PHOENIX (CBS5) -
The Arizona State University baseball program has signed seven student-athletes to National Letters of Intent, head coach Tim Esmay announced.
"We're looking forward to these seven young men joining the Sun Devil Family and our great core of players already in place," Coach Esmay said. "Each of them brings a unique set of skills and knowledge, and all will have the opportunity to compete for prominent positions as soon as we begin fall practice."
The signees, which include three pitchers and four position players, will join the baseball program for the 2013-14 school year and the 2014 baseball season. The signing class is comprised of six high school students and one junior college transfer, including five from Arizona, one from California and one from Texas.
"We feel great about this year's class," associate Head Coach and Recruiting Coordinator Ken Knutsonsaid. "We feel we brought in some very good players that will help us right away. We were probably a little more selective in our recruiting to replace guys who left the program at specific positions, including catcher, infielders, and some arms, and they should all compete for roles next spring."
Coach Knutson on all seven of the Arizona State signees:
INF Joey Bielek from Phoenix, Ariz. (Paradise Valley Community College): "He was an All-Conference player at Cincinnati as a freshman and just a premium hitter. We think he has middle of the lineup types of capabilities. He's a third baseman and just a really good player. He really wanted to be here and it was a goal for him to get here. He took a little bit of a roundabout way, but we all got together and made it happen. We're all excited about him and he will hit the ground running when he gets here." - Bielek is the nephew of former Sun Devil middle linebacker Brett Wallerstedt
RHP Hever Bueno from Mesa, Ariz. (Westwood High School): "Hever is a player who came on his senior year and we are very fortunate to keep him from pro baseball (the New York Yankees drafted him in the 17th round of the 2013 MLB Draft). He is a hard-throwing righty with a live arm, and he will be a great addition to our staff."
RHP Eder Erives from El Paso, Texas (Montwood High School): "Eder is a power pitcher with great command. His body type and arm reminded me a little of Tim Lincecum when I first saw him. What we love is he's pitched in big games and it seems to be the bigger the game, the better he performs."
INF David Greer from Scottsdale, Ariz. (Desert Mountain High School): "Every time we talk about recruiting and our team in the future - and you have to look ahead two years - Greer fixes all of our problems on where we're short of players. We feel like he can play just about anywhere on the field - third base, second base, left field - and he has center field skills. He has good tools and plays hard, plus he' a right-handed hitter, which we need in our program. He's going to be our fix-all and we expect him to come in and compete right away, and be the answer to any problems that we might have. He's a good player and plays hard, and we're looking forward to getting him here."
RHP Seth Martinez from Peoria, Ariz. (Sunrise Mountain High School): "For me, he was the top arm in the state. I felt like he has a projectable body and he's been a really premium strike thrower who has a chance to be a harder thrower as he matures. We just feel like he's one of those guys who really blossomed late in the summer after we already had a commitment from him. We think he can come in and make an impact right away and compete for a lot of opportunities as a freshman."
C Brian Serven from Palm Desert, Calif. (Palm Desert High School): "He's just a super athletic kid. He hasn't caught for a really long time, but he's a basketball player and an athlete. His coach told me he's the best clutch hitter that he's ever coached. I saw him earlier in the summer and was really impressed with his mobility and the way he moved. He has the versatility to hit anywhere in the lineup and has those types of athletic skills that will really make him special behind the plate. We think he's advanced defensively and he's going to come in and help us right away."
INF Colby Woodmansee from Phoenix, Ariz. (Desert Vista High School): "He's a big kid that is going to put on weight and get stronger, but he's a premium defender who stuck out to me. I know I talked to him late in the summer and he said he made his first error in three months. He's going to be that guy who's really going to catch the ball. He'll to be on the left side of the infield - he's a shortstop right now - and we'll just make him stay there and compete right away as a freshman."
Copyright 2013 CBS 5 (Meredith Corporation). All rights reserved.