UPDATE
Scottsdale doc pleads not guilty to stealing medicinal cocaine
Posted:
Updated: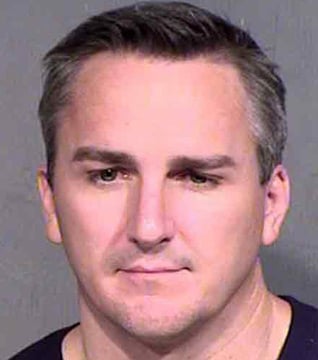 Dr. Paul Holden (Source: Maricopa County Sheriff's Office)
SCOTTSDALE, AZ (CBS5) -
A Scottsdale surgeon accused of stealing medicinal cocaine from a surgical business has pleaded not guilty in the case.
Maricopa County prosecutors say Dr. Paul Holden entered his plea Thursday. His next scheduled court appearance is Sept. 17.
Holden was arrested on July 11.
Holden allegedly broke into the North Valley Surgical Center at 9522 E. San Salvador Dr.
Holden works in a completely different business in the same building on the third floor. The surgical center is on the first floor.
Scottsdale police said he stole five boxes of medicinal cocaine after surgery center staffers counted their inventory and came up short. They said they found damage to the lock on the cabinet holding the drugs.
According to court documents, on July 9, a cleaning woman saw Holden duck behind a rack of shelves on rollers just outside the pharmacy door inside the medical center. She said she screamed and ran away.
Holden chased her through the suite and asked her for help opening the pharmacy door, claiming he didn't have the keys, the court document said. He eventually entered and the cleaning woman went back to work, police said.
After several minutes, Holden exited the pharmacy with his hands in his pockets which the cleaning woman said were noticeably bulkier than before he entered the pharmacy, according to the probable cause statement.

Holden and the cleaning woman walked into the lobby, where she pulled the alarm.
Holden was later identified on video surveillance footage.
He's facing burglary charges.
Scottsdale police said in May 2012, in the wake of a divorce, Holden fled the home in his vehicle, making suicidal statements and holding a loaded handgun to his head threatening to kill himself.
A short time later, police found him at his surgical business, where he barricaded himself inside. The building was evacuated, and Holden was eventually arrested.
According to the Arizona Medical Board, also in May of last year, Holden agreed to limit his medical license, citing a medical condition that affected his ability to safely practice. That limitation was lifted roughly two months later.
Court documents show he was also banned from using the surgery center last year, though it is unknown why.
Copyright 2013 CBS 5 (KPHO Broadcasting Corporation). All rights reserved.
UPDATE

Scottsdale doc pleads not guilty to stealing medicinal cocaine

More>>

SLIDESHOW: Butler's home


More >