New test makes early diagnosis of Parkinson's Disease possible
Posted:
Updated: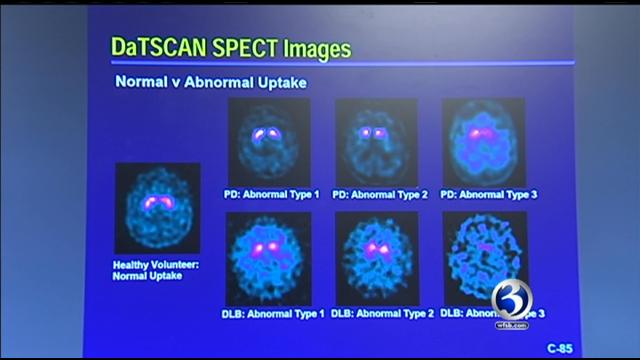 MERIDEN, CT (WFSB) -
Patients with the potential of having Parkinson's Disease, can now have a test at Midstate Medical Center in Meriden, which is designed to confirm or dismiss a Parkinson's diagnosis.
"Patients with Parkinson's Disease have reduced supplies of dopamine within the brain, and that leads to the symptoms of poor mobility, tremors," said Dr. Holley Dey at Midstate Medical Center.
A new test called the DATscan has a patient injected with a tiny bit of radiation. Then their brain is scanned, where it takes images of the brain's function.
"That tells us something about the distribution of dopamine supplies within the brain," Dey said. "Typically in a normal patient we would see normal and symmetric, and even distribution of activity of the brain right to left."
Dey said the tricky part about reading scans of patients with potential Parkinson's, is every brain scan can look different.
"You'll start to see asymmetry between right and left sides of the brain," Dey said. "As time goes on you may see asymmetric loss of dopamine."
The test can also see if the patient would ultimately benefit from dopamine injections.
"In patients where the symptoms are unclear, it can sometimes take years to make an accurate diagnosis," Dey said. "So what this test can do is potentially diagnose a parkinsonian syndrome in a patient earlier than you might make it clinically."
Dey told Eyewitness News the test is covered by medicare, and many private insurance companies are paying for the test, but you'll want to check with yours to be sure.
Copyright 2013 WFSB (Meredith Corporation). All rights reserved.