Middletown cemetery upsets over signs
Posted:
Updated: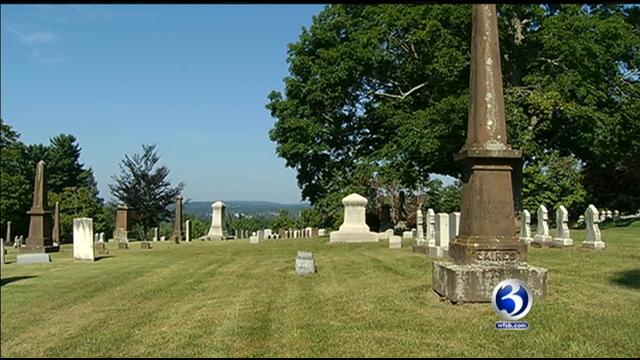 MIDDLETOWN, CT (WFSB) -
Officials at Middletown's Indian Hill Cemetery said they are trying to stop lawn signs from popping up outside the gates without permission on Thursday.
The yard signs, advertising businesses and yard sales, lined the street outside the cemetery, and flyers have been taped to utility poles in front of the entrance.
"We're an active cemetery," said Indian Hill Cemetery Superintendent, Norm Emond. "People coming in for a funeral don't want to see signs lining up along the street at a cemetery."
Emond told Eyewitness News that he understands how expensive the signs can be, so he saves them for a few days, until he throws them in the trash.
"When I left here Friday night, there wasn't anything," Emond said. "I came back Saturday, saw them on the town green, and sort of chuckled. I came back later in the day and they were on our side, then I wasn't chuckling."
The cemetery sits on the corner of Vine Street and Washington Street, which is a high traffic area. The various cars that pass make it a popular place for drivers to see the signs.
Emond said election season is a very busy time, which only makes the sign problem worse. He wants to put an end to it, before election season starts.
"There are other places that they can put them," Emond said. "We just want to keep it clean. This is becoming an issue, and we're trying to put a stop to it."
Copyright 2013 WFSB (Meredith Corporation). All rights reserved.