Vegas resident on rat infestation: 'They're huge'
Posted:
Updated: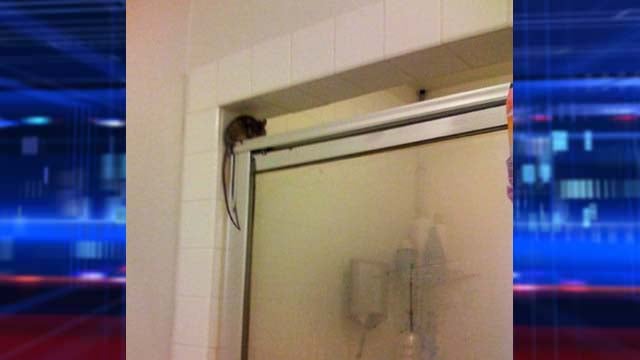 Linden Peterson was greeted by this rat in her Las Vegas home. (Linden Peterson)
A Green Valley rat, recently deceased. (FOX5)
LAS VEGAS (FOX5) -
If you liked our story about scorpions in the Valley earlier this week, you'll love this.
More and more, people all over town are noticing an increase in rats. The Southern Nevada Health District said rodents have been reported in more than 35 southern Nevada ZIP codes since 2003.
Besides cats, people are rats' primary predator, meaning it's up to us to deal with the problem.
"I was sleeping and heard a ruckus in the bathroom. I went in there and we had a huge rat in there," Las Vegas resident Linden Peterson said.
Peterson's cat actually brought the rat home as a gift of sorts.
"It was pretty scary, especially with the little kids," she said.
Rats have been noticed from Anthem to Centennial Hills and everywhere in between.
Las Vegas resident Danyelle Lorenzo's cats have been bringing them home as well. Fortunately, most of them have been dead on arrival.
"These guys look like river rats. They're huge, they have the long tails," she said.
Vivek Raman with the Southern Nevada Health District said they trap rats twice a year for surveillance. They've tested about 250 since 2003.
"The good news is we found no diseases. The bad news is we did find a very healthy, robust rat population in the Valley," Raman said.
The most common rodent in the Valley is not native. The roof rat loves living near people and all of their amenities.
"Constant water supply with swimming pools. You have overburdened fruit trees which provide constant food. People leave pet food out, providing great conditions for them," Raman said.
Roof rats are invasive and can produce six to eight offspring three to four times a year. They're also destructive, often chewing on wires in homes and cars.
The roof rats hitched a ride to the Las Vegas Valley on palm trees as well as shipping and cargo containers. They are nocturnal. If you spot them, you're urged to call pest control or use bait traps.
For more information on spotting rodent activity around your home, click here.
Copyright 2013 KVVU (KVVU Broadcasting Corporation). All rights reserved.