New test approved by FDA to diagnose ADHD
Posted:
Updated: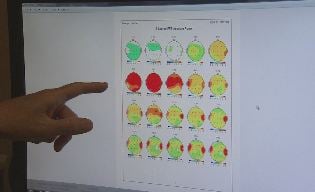 SCOTTSDALE, AZ (CBS5) -
According to the Centers for Disease Control and Prevention, nearly one in 10 kids have been diagnosed with ADHD. But a new test has just been approved by the Food and Drug Administration that measures brain activity in kids and teens to better diagnose the disorder.
"He was one of those children that would never sleep throughout the night, consistently wake up throughout the night, and when he wakes up during the day, he's on the go 24, 7," said Justin Wiles, whose 6-year-old son has been diagnosed with severe ADHD.
"Got him enrolled in sports, keeping him active, those have been really key functions to a child who has severe ADHD," Wiles said. He said they went to several pediatricians for the diagnosis. But he believes a newly FDA-approved test called the NEBA test, which measures electrical impulses in the brain, could have spared them the headaches. The NEBA test looks at the type of brain waves that are firing and how frequently to help identify ADHD in kids ages 6 to 17.
"It's not necessarily just trying to factor out a diet plan, it looks like it's stimulating the nerves in the brain to see what's going on," Wiles said.
"There are statistical differences in people who have ADD versus the norm, and it's saying here it's very legitimate and it's a good starting point," said Dr. Sanford Silverman with the Center for Attention Deficit and Learning Disorders in Scottsdale. He said while this test is great news for his field, he doesn't think it covers every factor.
"You have to look at the whole picture. You really want to put histories together. You want to look at other factors. It's not always black and white that you have ADD [or] you don't," Silverman said.
The NEBA test takes up to 20 minutes. and the company that makes the system is based of out Augusta, GA. It's not clear yet when the test will come to Arizona.
Copyright 2013 CBS 5 (KPHO Broadcasting Corporation). All rights reserved.