Man vs. beast: CT native wrestles shark on Nantucket
Posted:
Updated: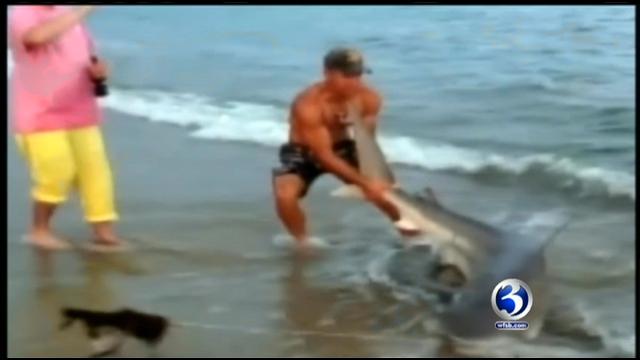 NANTUCKET, MA (WFSB) -
In a true story of man vs. beast, a Connecticut native was fishing on Nantucket Beach over the weekend when he reeled in a 7' shark.
Not only did he reel it in, the Burlington native wrestled it to shore.
Photographs and videos are going viral after Elliot Sudal reeled in the big one while he was fishing.
"I go out every night fishing for bluefish and striped bass," he said in a Skype interview. "It was about 7' long and maybe 200 lbs."
The Brown or Sandbar Shark took about 45 minutes to get to shore. After he wrestled it, he removed the hook from its mouth and released it back into the water.
Sudal said he has a thing about sharks. He has posted pictures on his Facebook page of him holding them and other ocean predators.
"I always treat them well," he said. "I'm conservation-minded when it comes to that. I don't kill any of them. I just let them go. And yeah, they swim off just fine."
Sudal said he has no problem letting this one go. He said there are plenty of them and said he sees dozens swimming just 10 feet from shore.
Copyright 2013 WFSB (Meredith Corporation). All rights reserved.