Shrine erected for beloved stray cat
Posted:
Updated: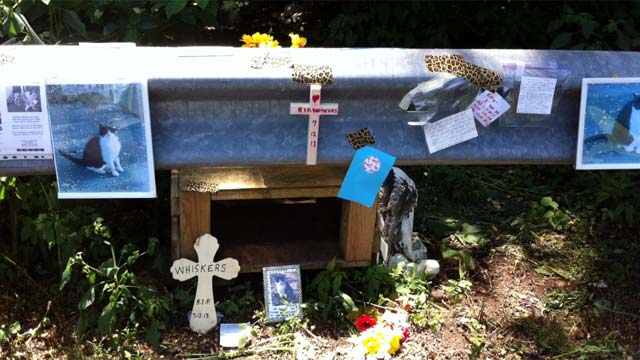 NEWINGTON, CT (WFSB) -
A shrine has been built in Newington for a stray cat that was hit and killed by a vehicle on Friday.
According to a Facebook post, people in town would regularly stop to feed the cat, who would always come out of the woods, when someone would stop by to see him.
There is a large dog crate and a couple of igloos, which serves as a makeshift shelter for these stray animals.
However, there is a strong unpleasant smell near the makeshift shelter, and both the shelter and memorial are on town property, on a busy road in town.
The post said the resilient cat survived heat waves, blizzards and hurricanes, before being hit and killed on Friday.
After the community realized the cat was dead, a memorial was built where the cat lived, and it's now filled with letters, photos and statues.
However, stray cats are dividing one neighborhood in town. People have been feeding them for years and gotten attached, while others said feeding feral cats causes problems.
Heidi Jameson comes at least once a week to this stretch of Two Rod Highway to feed some stray cats, and she is not alone.
"I am the one who names him whiskers," Jameson said about the cat killed on Friday, and added he was her "baby."
Carli Tingley, who runs a nearby farm stand, told Eyewitness News feeding these stray cats attracts lots of wild animals. Some of which are mangy and diseased.
"You just feed these feral animals, and you cause a problem," Tingley said.
The Animal Alliance Welfare League told Eyewitness News they feed over 400 cats in central Connecticut, and they try to spay and neuter as many as possible.
Copyright 2013 WFSB (Meredith Corporation). All rights reserved.