Denver eyes charges for workout groups in city parks
Posted:
Updated: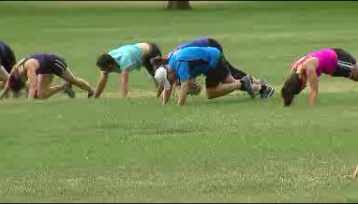 The Denver City Council is considering charging large groups that work out in it's city parks. (Source: KCNC-Denver)
Boot camps, yoga, jogging groups: People love working out in Colorado's parks.
But now, workout groups might have to pay to break a sweat in a park.
The Denver City Council is considering fees for fitness classes using city parks.
Organizers for any professional exercise class in a city park don't have to pay anything to the city.
But if the City Council changes that, opponents say the fees could add up quickly.
The adults have a wonderful time in Denver's beautiful Wash Park under the tutelage of boot camp leader Chris Lindley.
They could be athletic warriors or mothers with strollers, but exercise classes in city parks, such as Lindley's, are all the rage.
But city officials say commercial activity should require a permit - and fees. Parks and recreation officials say that ordinance has always been on the books.
"A lot of these groups really are businesses that provide their goods and services in the park. "If they don't have a permit, (they're) breaking the law," said Jeff Green of the Denver Parks and Recreation Department.
The City Council is considering a permit and fee structure that would set the cost for one 90-minute exercise session from $4.50 to $32.50, depending on the park, season, and time of day.
And that's only for groups of 25 people or less.
"We live in Colorado<" said boot camp participant Tonia Seidl. "This is beautiful. Why shouldn't we be out here? We should never discourage, (we should) encourage. Remove every barrier possible."
Green said his department wants to encourage exercise, but at a reasonable expense.
"We want people to enjoy our parks, and this is balancing the needs and wants of commercial operators who use the park," he said.
A City Council subcommittee will meet Tuesday morning to hear public comment and to vote on whether to advance the issue to the full council.
Copyright 2013, KCNC-Denver. All rights reserved.