Police shoot man in face; part of teenage robbery
Posted:
Updated: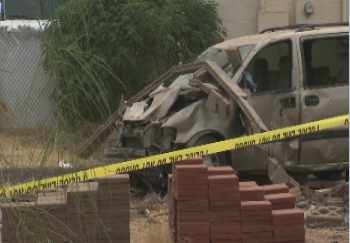 © (Source: CBS 5 News)
PHOENIX (CBS5) -
Police searched a neighborhood by air, and on ground for more than an hour early Saturday morning searching for two teenagers officers say took part in an armed robbery of a convenience store.
A third suspect, a 21-year-old man, was shot in the face. Police say he tried grabbing an officer's gun, while police were attempting to arrest him.
According to Phoenix Police, the 21-year-old man was with a 14-year-old boy, and a 13-year-old girl. All three wore masks and used knives to rob a Circle K convenience store of beer, cigarettes and donuts at around 1:00 Saturday morning.
The three then drove away in a tan-colored minivan. Officers in a nearby cruiser caught up with the van, chasing it down an alleyway between North 29th Avenue and North 28th Drive.
The van did not get far before crashing into a brick wall behind a home on North 29th Ave. Keith Dunlap was outside in his backyard at the time of the crash.
"I jumped out of my seat," Dunlap said. "I thought the van was going to come for me."
Dunlap was unharmed.
According to him, the two teenagers immediately ran from the car, jumping over another fence.
"One of them said, 'oh sorry, sorry' and he jumped over this wall," Dunlap explained.
Dunlap says a Phoenix Police officer told the driver of the van, who was still in the vehicle, to exit the car. Police say the suspect instead tried grabbing the officer's gun. That's when the officer fired, striking the suspect in the face.
The 21-year-old suspect was taken to JCL North Trauma Center in serious condition.
The two teenagers were later found hiding in nearby homes. Officers say one of the teenagers was bitten by a K-9 officer.
Police say the 21-year-old driver will likely face charges of aggravated assault of an officer and the two teenagers could see charges of armed robbery.

Copyright 2013 CBS5 (KPHO Broadcasting Corporation). All rights reserved.