UPDATE
James Arthur Ray out of prison; ordered to pay $94K
Posted:
Updated: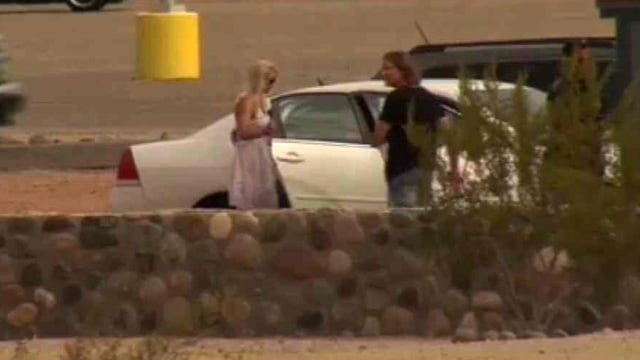 James Arthur Ray, with long hair and wearing a dark shirt, is shown getting ready to leave the Lewis prison complex in Buckeye on Friday morning. The woman on the left is not identified. (Source: CBS 5 News)
SEDONA, AZ (CBS5) -
Less than a week after motivational speaker James Arthur Ray was freed from the Lewis prison in Buckeye, he has been ordered to pay more than $94,000.
Ray, who was convicted of negligent homicide after three people died in a sweat lodge he hosted near Sedona in 2009, has been ordered to pay $57,514.12 in restitution and $36,820 in fines and surcharges, according to the restitution order filed in court on Thursday afternoon.
The order goes on to say that the families of the three people who died and the state of Arizona are each entitled to criminal restitution plus 10 percent interest. The order said the $94,354.12 total may not reflect money paid to date.
Ray sported shoulder-length hair and was wearing a black short-sleeve T-shirt and well-worn jeans when he got into a white sedan and was driven from the grounds on July 12.
He did not speak with reporters and left shortly after 9 a.m.
Ray was facing up to nine years in prison after being convicted on the three counts of negligent homicide. At the end of 2012, he was sentenced to two years in prison.
Ray said during his sentencing hearing that he would have stopped the ceremony had he known people were dying or in distress. He took full responsibility for the pain and anguish he said he caused the families of Kirby Brown, James Shore and Liz Neuman, who died in the ceremony.
A spiritual resort called "Angel Valley" hosted the event, and the owners had only spoken briefly about what happened three years ago, until sitting down with CBS 5 News in October 2012 for an exclusive interview about their book called Transformation at Angel Valley. [READ: Owners of Valley resort describe sweat lodge tragedy]
"You can't put a timeframe on justice and you can't reverse things that have happened," said Tom McFeeley, whose cousin, Kirby Brown, passed away in the sweat lodge. "She's in my thoughts every day and I think living like her is a way to honor her."
While an April post on Ray's Facebook page says he is looking for help in Phoenix upon his release, McFeeley thinks it'll be no time until he's back on his feet.
"I think you'll see him either relaunch his personal brand or he'll work behind the scenes to mentor or coach other people," McFeeley said.
He said that's why his family is launching a non-profit charity called Seek Safely, hoping people will see some warning signs when turning to the self-help industry.
"If you sign up in the next 10 minutes, this $2,000 lecture is only $1,275, or if you sign up now, you can bring a friend for free," he said, listing off some red flags.
While McFeeley said he doesn't feel the 600 days Ray spent behind bars is enough, they are hoping something good comes out of this tragedy.
"James Ray is the least of our concerns at this point and we hope people have the right attitude and the right information to move forward and improve their lives," McFeeley said.
A family member of Ray could not be reached for comment. Ray is currently on probation in Phoenix.
Stay with cbs5az.com for updates on this developing story.
Copyright 2013 CBS 5 (KPHO Broadcasting Corporation). All rights reserved.