UPDATE
No suspects found in Mesa car fires
Posted:
Updated: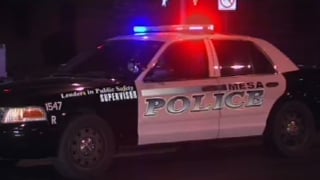 (Source: CBS 5 News)
MESA, AZ (CBS5) -
Mesa police believe several arson-sparked cars fired July 7 are connected to a spate of similar cases that plagued the East Valley for more than one year.
Officers investigated reports of two cars that had been torched at different locations around 1:45 a.m. on July 7.
One of the vehicles was destroyed.
Police said they were unable to find any suspects.
Officers said they are extensively tracking the two cases in hopes of turning up leads.
Mesa police said they've had several arsons near 500 N. May, 700 N. Santa Barbara and 2300 W. Dartmouth in Mesa in March and in July. Police said between July 2 and July 7, arsons were committed in these areas involving an apartment, a tree and other vehicles.
Mesa police said on March 22, four vehicles were set on fire. All of the vehicles were located in parking lots of multi-family complexes.
In late April, Mesa police announced that four people had been arrested in connection with setting vehicles, sheds, homes and landscapes on fire in Mesa and Chandler.
People with any information are asked to call Silent Witness at 480-WITNESS or 480-TESTIGO. Silent Witness is offering a cash reward up to $1,000 for information leading to an arrest.
Copyright 2013 CBS 5 (KPHO Broadcasting Corporation). All rights reserved.