CBS 5 Advocate
Incentives in auto glass biz can lead to problems
Posted:
Updated: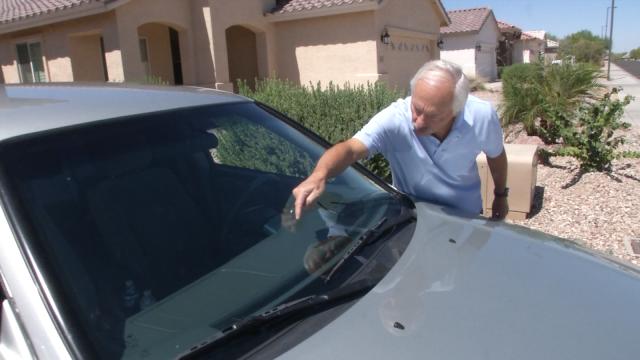 BUCKEYE, AZ (CBS5) -
A Buckeye man did what a lot of people do when they have a crack in their windshield, he used a company that offered a special incentive along with the replacement. This arrangement leads to a common problem many consumers have faced.
Most average car insurance policies in Arizona provide "free glass protection" - meaning if your windshield cracks and needs replacing there is usually zero cost to you. Since everybody does it for free; free isn't good enough. That's where the incentives come into play, and the trouble.
"The windshield had a large crack," Kirk Johnson said.
Johnson says at 240,000 miles, his Toyota has been through lots of replacements, but he is not worried because he has good insurance.
"I have full comprehensive and complete coverage on the vehicle, that includes windshield replacement at no charge," Johnson said.
It's free no matter who does the work. Johnson chose Capital One Auto Glass because they promised a nice incentive. He says Capital One was supposed to pay him a $65 bonus at installation, but when the workers showed up that day, they claimed he had to wait until the insurer paid them.
"I think I let a month lapse before I actually called them and they claimed then that AAA Insurance never paid them," Johnson said.
But Johnson says AAA did pay the invoice and within days of the installation. He says Capital One wasn't cooperating.
"Ever since then, I've called, I get a recording, and have never had a return phone call," Johnson said.
Not for nearly six months. After Capital One changed its name to Liberty Auto Glass and its web address to "all insurance approved", Johnson found and called another phone number for the company.
"The same guy answered, he apologized, said he'd get to the back room and find out just exactly what's going on, and I never got a phone call back again," Johnson said.
Johnson has learned that when it comes to windshield replacements - incentives aren't all they're cracked up to be.
"The best thing to do is work with your insurance company and go with the companies that are recommended by the insurance company," Johnson said.
The CBS 5 Advocate advises consumers to call their insurers themselves. Don't let some other company handle that chore for you. You won't get a bonus, a gift card, or a bag of meat, but your insurance company will handle every problem. If you pick your own installer though, like Johnson did in this case, all complaints go through the installer. That's a big risk to take and may not be worth $65. If you insist on picking your own approved installer, make sure you demand to receive your incentive at the time of installation or cancel the deal.
CBS 5 News contacted Liberty Auto Glass about this problem, and less than 30 minutes later the company issued Johnson his $65 bonus. Liberty Auto Glass says that it has always been their policy to pay incentives after they are paid by the customer's insurance company and they made that point clear to Johnson.
They also said they didn't return Johnson's phone calls because he used profanity with them several times on the telephone - Johnson denies that claim.
Copyright 2013 CBS 5 (KPHO Broadcasting Corporation). All rights reserved.