Group seeks to ban animals sales at stores in Branford
Posted:
Updated: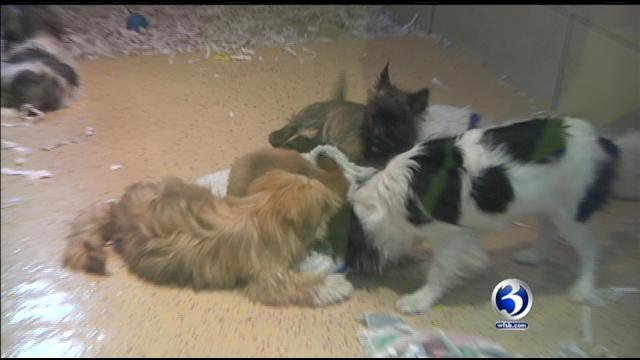 BRANFORD, CT (WFSB) -
Town officials in Branford held meeting Tuesday night regarding the ban of a pet store from selling dogs.
Nicholson, chairwoman of Branford's Cosgrove Animal Shelter Commission, alleges the dogs at the All Pets Club pet store are supplied from puppy mills. She is leading the charge to ban All Pets Club from selling pets altogether.
"We have really uncovered a great deal of problematic issues in the puppy mill industry that directly affect Branford residents," Nicholson said.
Nicholson said she would like to see customers invest in rescue dogs, but not all shelters can provide a purebred dog.
"There are a lot of traditional breeders that breed for the love of the breed," Nicholson said. "They have fabulous dogs that don't come from inhumane situations."
However, All Pets Club is not breaking any laws.
"It's a legitimate business in this town," said First Selectman Anthony DaRos. "They employ people, they pay taxes and they run a very tight ship as far as I can see."
Although Nicholson does not want to put All Pets Club out of business, she does want to offer a way they can work together.
"He could work with local rescue groups, he could work with our shelters," Nicholson said. "He could work with breeders and redirect people toward people with legitimate sources."
Some customers want the opportunity to choose.
"I think a lot of people want puppies," said Kris Ryan of Madison. "They like that, they like attraction, especially with kids."
Copyright 2013 WFSB (Meredith Corporation). All rights reserved.