Pac-12 Postgrad Scholarships announced
Posted:
Updated: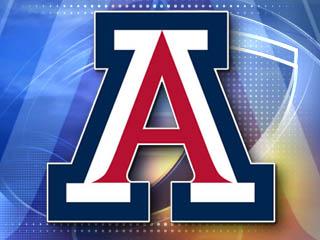 © cbs 5
PHOENIX (CBS5) -
University of Arizona student-athletes Brigetta Barrett (track and field), John Bonano (football), Megan Meyer (track and field/cross country) and Austen Thompson (swimming) have been awarded Pac-12 Postgraduate Scholarships for the 2012-13 academic year, it was announced by league commissioner Larry Scott on Monday. Each honoree will receive a scholarship of $3,000 for their postgraduate studies.
Barrett was named the 2013 USTFCCCA National, USTFCCCA West Region and Pac-12 Field Athlete of the Year for her performance in the high jump. She ended her career at Arizona by winning her last 25-straight collegiate competitions. She will leave Arizona has the most successful women's collegiate high jumper ever. She won her sixth-straight NCAA Championship in the women's high jump in June. Barrett is the first woman in collegiate history to win three-straight indoor and outdoor titles. She earned her degree in theater arts in May 2013.
In 2012, Bonano ranked fifth in the Pac-12 in scoring and No. 1 among kickers with 7.8 points per game. In his final campaign, he was 58-of-59 in PATs and 14-of-20 in field goals. He also ran in for a two-point conversion against ASU. Bonano's PAT with 0:19 to play in the Gildan New Mexico Bowl gave the Wildcats the go-ahead score to win the game, 49-48. He owns the school record for consecutive PAT kicks made with 73. Bonano was named a 2012 CoSIDA Second-Team Academic All-American, the 2012 Pac-12 Football Scholar-Athlete of the Year, was a three-time Pac-12 All-Academic honoree and earned an NCAA Postgraduate Scholarship.
Additionally, Bonano earned a 2013 Pillar of Excellence Award, given out by Arizona's Honors College to distinguished graduating seniors. On March 3, Bonano was honored by the Southern Arizona Chapter of the National Football Foundation as a 2013 Scholar-Athlete. He earned his degree in physiology in December 2012.
Meyer has been a member of Peer Athletic Leaders (PAL) for three years and served two years on SAAC – this year as Vice President and Chair of the Life Skills subcommittee. She represented the department at the Pac-12 Leadership Conference in 2010 and represented her team on the "We are Always in Uniform" poster this year. Meyer has been involved with Step UP! in many different ways, helping organize the first national conference last year and being featured on the main UA website this spring for her involvement in the Be Kind Step UP! initiative. She has been recognized with the Pillar of Excellence from the Honor's College and as the Outstanding Senior in the Nutritional Science Department. In her career, she has contributed an unprecedented 179 hours to community service.
Thompson finished 10th in the 200m IM semifinals at the 2012 Olympic Trials and was the 2012 NCAA Champion in the 400 IM. He earned four All-America honors during his career at Arizona, all coming individually. Studying Molecular and Cell Biology, Thompson has been named to the Pac-10/12 All-Academic team three times.
To be selected for a Pac-12 Postgraduate Scholarship, a student-athlete must have an overall undergraduate minimum cumulative grade-point average of 3.00 (based on a 4.00 scale) or its equivalent; be in his/her final season of intercollegiate athletics eligibility in all sports OR be in his/her final year of undergraduate studies, having exhausted athletics eligibility in all sports; have performed with distinction as a member of a varsity team; intend to continue academic work beyond the baccalaureate degree as a full-time student in a graduate or professional program at an accredited institution, or in a postgraduate program for which an undergraduate degree is required for admission; have behaved, both on and off the field, in a manner that has brought credit to the student-athlete, the institution and intercollegiate athletics.
In 1999, the Pac-12 Conference created a postgraduate scholarship program to honor outstanding student-athletes from its member institutions who also are outstanding scholars. Each Pac-12 institution selects four student-athlete recipients, two men and two women, through its institutional selection process. Since the program began in 1999, the Pac-12 has awarded over $1.5 million for postgraduate study.
For continued coverage of Arizona Athletics, visit ArizonaWildcats.com, follow @AZATHLETICS on Twitter and on Facebook at Facebook.com/ArizonaAthletics.
Copyright 2013 CBS 5 (Meredith Corporation). All rights reserved.