Spectator on Cirque death: 'I thought there was a net'
Posted:
Updated: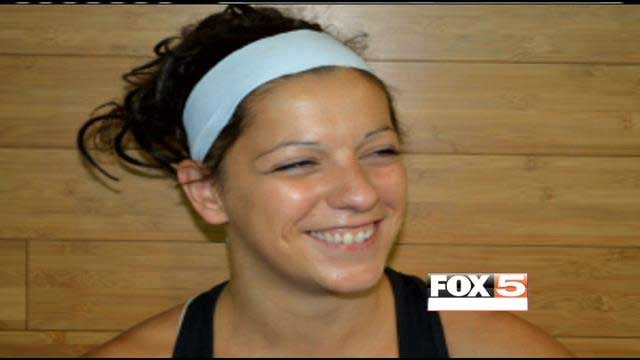 Sarah Guyard fell during a performance of "KA" on June 29. (Source: cirquefitlv.com)
LAS VEGAS (FOX5) -
Scheduled showings of Cirque du Soleil's KA were canceled after a performer reportedly fell from a wire and died on Saturday night.

A statement from Cirque du Soleil confirmed cast member Sarah Guyard died accidentally.

Witnesses said they watched as an acrobat dangling from a wire at least 50 feet in the air suddenly fell during the show's final act.
Performances of KA were canceled until further notice in light of the first performer death at a Cirque du Soleil show in the company's 30 years.
"You could hear people crying and all the actors were pretty much looking down," said Asit Govil, who watched Saturday's show with his sister-in-law Rita Govil.
He said they were so mesmerized by the elaborate fight sequence they initially thought the fall was part of the show.
"When I saw the person falling, I thought, most probably there's a net down there. Obviously I realized very soon that wasn't the case," said Rita Govil. "You could hear the sobs and the crying of the artists, crying for their fellow artist."

Audience members were offered refunds for their tickets, but some tell FOX5 they would rather donate their money to support Guyard's family.
On Sunday the KA Box Office and the KA Theater inside the MGM Grand were closed with no indication on when performance will resume.
Cirque du Soleil's founder Guy Laliberté said in a statement, "I am heartbroken. I wish to extend my sincerest sympathies to the family. We are all completely devastated with this news. Sassoon was an artist with the original cast of KÀ since 2006 and has been an integral part of our Cirque du Soleil tight family. We are reminded, with great humility and respect, how extraordinary our artists are each and every night. Our focus now is to support each other as a family. "
Laliberté says Guyard, known on stage as "Sassoon," joined the KA's original cast in 2006.
A Cirque du Soleil spokesperson said the company is cooperating with authorities.
Those that knew Guyard are taking to Facebook and Twitter to express their pain. Some of them identify her as the head coach of children's gym Cirquefit. Sunday afternoon Cirquefit's website said classes are canceled until further notice.
A Cirque Du Soleil spokesperson says the company is cooperating with authorities.
MGM Resorts International said in a statement, "Our company is deeply saddened by the loss of one of the talented KA artists Saturday night. The thoughts and prayers of our employees are with the performer's family, the cast of KA, and the entire Cirque family during this difficult time."
Copyright 2013 KVVU (KVVU Broadcasting Corporation). All rights reserved