New Yorker cover photo featuring Bert and Ernie going viral
Posted:
Updated: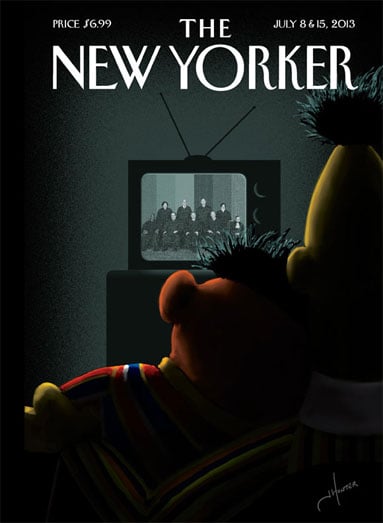 © The New Yorker
ATLANTA (CBS46) -
The cover photo of a July issue of The New Yorker is going viral.
The cover photo, titled Bert and Ernie's Moment Of Joy, features Sesame Street characters Bert and Ernie snuggling on the couch as they watch the Supreme Court rulings on DOMA and Prop 8.
Jack Hunter, the artist who designed the cover said, "It's amazing to witness how attitudes on gay rights have evolved in my lifetime. This is great for our kids, a moment we can all celebrate."
Hunter originally submitted his image, unsolicited, to a Tumblr, according to the magazine.
Bert and Ernie have lived together for many years on Sesame Street. In 2011, after a petition asking for Sesame Street to marry Bert and Ernie went viral, the TV show released the following statement:
"Bert and Ernie are best friends. They were created to teach preschoolers that people can be good friends with those who are very different from themselves.
"Even though they are identified as male characters and possess many human traits and characteristics (as most Sesame Street Muppets™ do), they remain puppets, and do not have a sexual orientation."
Copyright 2013 WGCL-TV (Meredith Corporation). All rights reserved.