Sun Devil Athletics Finishes 18th in Learfield Sports Directors' Cup
Posted:
Updated: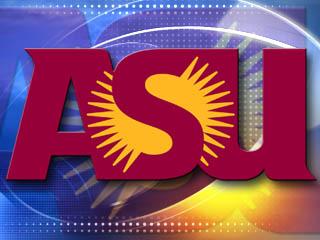 © cbs 5
The Arizona State University athletic department finished 18th in the 2012-13 Learfield Sports Directors' Cup, according to the final rankings released by the National Association of Collegiate Directors of Athletics (NACDA) on Thursday.
Arizona State finished with 852.08 points to finish in the top 20 out of 294 programs to score points in the annual competition, which is held to determine the top broad-based athletic program in the nation.
In the 20-year history of the program, the Sun Devils have placed in the Top 30 each season. This year's finish marked the highest for the department since the 2008-09 campaign, where ASU finished 12th overall.
Overall, Stanford won the competition with 1,261.25 points, followed by Florida with 1244.75 points. UCLA (1,227.25) Michigan (1,138.25), UCLA (1,127.25) and Texas A&M (1,131.50) rounded out the top five.
Among Pac-12 schools, ASU finished sixth behind Stanford (first), UCLA (third), USC (14th), Oregon (15th) and California (17th), though the program was less than 100 points behind USC. ASU finished ahead of Arizona (23rd) by over 50 points.
Arizona State added 50 points for their appearance in the regional round of the NCAA Baseball Tournament in the final rankings. That helped leapfrog over Minnesota to give ASU the 18th position in the final standings.
ASU's rise in the rankings was fueled by a spectacular season in the Spring sports.
The men's and women's golf teams headed the charge with both squads posting fifth-place finishes (earning 72.8 and 75 points, respectively) at their respective NCAA Championship events. The men's team reached the quarterfinals of match play despite entering the final week of competition as the No. 27 seed while the women achieved their best finish since 2010.
The Sun Devil softball team finished another impressive season with a seventh-place finish (73 points) in its third consecutive appearance in the Women's College World Series.
Arizona State's women's tennis team finished the season with a top-20 finish in 17th overall, earning 50 points toward the cause.
The ASU women's track and field team finished 10th overall at the NCAA Championships and earned 67.5 points towards ASU cause while the men's squad was 28th overall, earning 43 points.
Indoors, the women's track and field squad posted a seventh-place finish (71.25 points) as ASU's top point-earner for the Winter session of the rankings while the women's gymnastic program earned 13th-place points (59.33) for their solid season.
Both the men's (18th) and women's (23rd) swimming and diving programs finished in the top 25 nationally, garnering 55.5 and 51 points, respectively.
The Sun Devil football team earned 45 points with a 26th-place finish as the athletic department's top-earner during the Fall season.
The Cup, which has carried the names of several different sponsors, was started in the early 1970's by the Knoxville Journal with the newspaper awarding points based upon finishes in the national meets and tallying three standings: men, women and combined. Under that format, ASU climbed its way into the Top 5 on several occasions as a combined program, finishing second in 1981 after placing third in 1976, 1977 and 1978. When USA Today took over compiling the numbers in the late 1980's, the Sun Devils finished in the Top 10 on several occasions as a combined program with their highest finish coming in 1990 when they finished fourth after the men were fourth and women fifth in their separate divisions.
ARIZONA STATE IN THE FINAL LEARFIELD DIRECTORS' CUP STANDINGS


2012-13 – 18th
2011-12 - 30th


2010-11 - 27th


2009-10 - 22nd


2008-09 - 12th


2007-08 - 4th


2006-07 - 10th


2005-06 - 13th


2004-05 - 11th


2003-04 - 17th


2002-03 - 10th


2001-02 - 15th


2000-01 - 9th


1999-00 - 11th


1998-99 - 12th


1997-98 - 12th


1996-97 - 13th


1995-96 - 21st


1994-95 - 12th


1993-94 - 10th
2012-13 Learfield Sports Directors' Cup Top 5

1. Stanford (1,261.25)
2. Florida (1,244.75

3. UCLA (1,227.25)

4. Michigan (1,138.25)

5. Texas A&M (1131.50)


---


18. Arizona State (852.08)

Sun Devil Teams Scoring in the 2012-13 Director's Cup

75.0 - Golf (W) - 5th

73.0 - Softball - 7th

72.8 - Golf (M) - 5th

71.25 - Track and Field (W/In) - 7th

67.5 - Track and Field (W/Out) - 10th

59.33 - Gymnastics - 13th

57.75 - Track and Field (M/In) - 16th

55.5 - Swimming and Diving (M) - 18th

51.0 - Swimming and Diving (W) - 23rd

50.0 – Baseball – 17th
50.0 - Tennis - 17th

45.0 - Football - 26th

43.0 - Track and Field (M/Out) - 28th

31.0 - Wrestling - 41st

25.0 - Soccer - 33rd

25.0 - Volleyball - 33rd
Copyright 2013 CBS 5 (Meredith Corporation). All rights reserved.