Bomb scare forces evacuation at Sky Harbor Terminal 4
Posted:
Updated: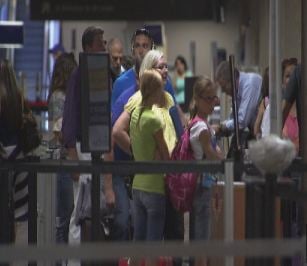 PHOENIX (CBS5) -
There were some tense moments at Sky Harbor Airport on Monday after someone spotted a suspicious package.
The bomb squad was called in, and hundreds of travelers were evacuated from Terminal 4.
"A lot of what it was people saying, 'get out,'" said passenger Jacob Minton. "It wasn't organized. They were just trying to get everyone out as soon as possible. They were shoving. I almost got knocked over by one woman."
Phoenix police evacuated the ticketing area in Terminal 4, around noon, after someone notified an officer that they spotted something suspicious in an airport trash can.
"I saw dogs and police officers, so I'm thinking a suspicious box or something," said passenger Markeeta Harper.
The bomb squad was called in, while hundreds of passengers were kept away.
About an hour later, investigators determined that the suspicious package was some type of cooler, with hot and cold ice packs inside.
"It appears as if this was carelessly discarded, in an attempt not to carry them on board an aircraft," said Phoenix police Sgt. Trent Crump "Some of the items in the packaging were items that would not be allowed anyway."
Airport officials said there were no immediate flight delays and most travelers made it to their gates on time.
According to deputy director of aviation Deb Ostreicher, the most important thing is that someone wasn't afraid to report something that didn't look quite right.
"What we ask is anyone, if they see anything suspicious, no matter what that is - a bag in the trash, a box, if it looks suspicious we would prefer that it was reported, and somebody did that today," said Ostreicher.
Police said they were able to track down the individual who stuffed that cooler in the trash.
It turns out, he put something else in another trash can.
Both items were not considered a threat and he was allowed to continue on his way, police said.
Copyright 2013 CBS 5 (KPHO Broadcasting Corporation). All rights reserved.