Homeowner speaks out after shooting armed intruder
Posted:
Updated: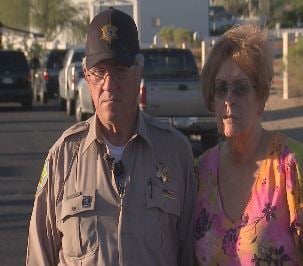 SUN CITY, AZ (CBS5) -
A Valley burglar picked the wrong house to break in to.
Instead of making off with a stash of cash, the crook was confronted by a former police officer who's also a member of Maricopa County Sheriff Joe Arpaio's posse.
Dave and Audrey Sobley talked about their ordeal to CBS 5 News.
The Sobleys said an armed intruder broke into their Sun City home early Friday morning while the couple was sleeping.
"I was afraid for my life and my wife's life, because he was making an indication that he was going to kill us if he got the opportunity," said Dave Sobley, 67.
"He had the gun right at me," said Audrey Sobley, 71. "He said, 'You move - I'll kill you.'"
But the retired police officer and Vietnam veteran was not about to let that happen.
Dave Sobley said that when the gunman forced him to the floor in one room, then went after his wife down the hall, he knew he had to take action.
"I got up immediately and went to my bed, where I keep a loaded revolver, and I shot him," Dave Sobley said.
"When the shot went off, I didn't know who was shot, and my heart stopped," Audrey Sobley said. "My heart stopped until I heard his voice. I was so relieved he was alive."
The Sobleys told CBS 5 News that the gunman ran off, and they called 911.
Authorities spent several hours searching for the suspect and finally found him trying to hide in a house in a nearby neighborhood.
He was bleeding from the gunshot that hit him in the hand and neck, authorities said.
"I was relieved," said Audrey Sobley. "I was worried he might want to come back and get revenge because he's been shot. I was greatly relieved."
An MCSO spokesperson said that suspect, Josh Barnes, is recovering in a Valley hospital and will face an assortment of charges including kidnapping, aggravated assault and burglary.
The Sobleys said they'd never seen Barnes before and have no idea why he picked their house.
The gunman reportedly kept asking the Sobleys where the gold is, but the Sobleys said they don't have any gold in the house.
Dave Sobley has been a member of Sheriff Joe Arpaio's posse for the three years.
Copyright 2013 CBS 5 (KPHO Broadcasting Corporation). All rights reserved.