911 calls describe witnesses restraining hit-and-run suspect
Posted:
Updated: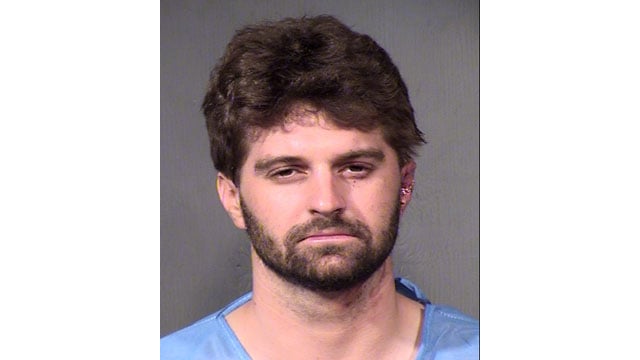 Carl William Day, 27, of Gilbert
PHOENIX (CBS5) -
CBS 5 News is getting a firsthand account of what took place along the I-17 during a deadly crash earlier this week.
A man was killed after he was hit from behind by a suburban, according to DPS officers.
Now 911 calls released to CBS 5 show the drama that unfolded during the accident.
The first two calls describe the intensity of the collision. One caller tells dispatchers, "there's a major crash on the I-17, there's a car flipped over on the middle."
Another caller tells dispatchers the position the car landed in, "its wheels are sticking straight up!"
Officers told CBS 5 News the suspect, Carl William Day, 27, of Gilbert, was speeding down the highway and narrowly missed all but one car as described by another caller.
"The suburban was probably going 75 or something and rear ended it and flipped over," the anonymous caller said.
Day allegedly tried to get away, but several people who witnessed the incident did what they could to keep him from running.
Another caller describes the scene for dispatchers, "they're getting in a fight, they're fighting and running, oh my God, they're hitting each other."
The bystanders pinned Day down until police arrived. But as one of the callers described, they did so fighting him tooth and nail. "I think somebody passed away and they're really mad."
Day was eventually arrested and charged with manslaughter and failure to stay at the scene of a crash where there was injury or death.
Copyright 2013 CBS 5 (KPHO Broadcasting Corporation). All rights reserved.