BMW caught crashing off AZ cliff in viral video
Posted:
Updated: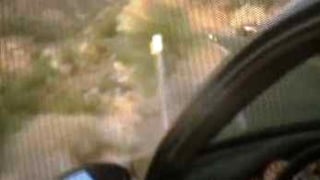 BMW crashes off cliff in video that had gone viral. (Source: CBS 5 News)
PHOENIX (CBS5) -
A Valley motorist crashed off a cliff in Mesa in a video that has gone viral.
Twenty-two-year-old Josh, who didn't want his last name used, walked away with hardly a scratch.
Josh said he climbed behind his BMW M-3 last Thanksgiving with a group of friends and began driving down Tortilla Flats.
"I saw myself going into the other lane, hit the mile marker and then I pretty much knew I was going for a ride," Josh said.
The next thing he knew, the car plunged off a cliff.
"I didn't get to think about that really much," Josh said. "It all happened really fast. I looked down and I saw what was about to happen and that's it. By the time I realized what was going to happen, it had stopped."
Josh said he got out of the car and climbed back up the hill.
"From the minute the car left the pavement to the minute that my feet touched the pavement, it was a matter of 20 seconds," he said. "It happened really fast."
He walked away with only a minor injury on his hand.
Nicole Farr with the Arizona Insurance Council said the video could definitely help adjustors who looked into the claim.
"He's providing plenty of proof here about his actions," Farr said. "If there is no criminal activity here, if there is no illegal purposes, in most cases, his insurance company will cover his losses."
That even includes if he was racing or speeding.
Josh was left with cash for his car.
"It was a bit of a bummer, but at the end of the day it's just metal," he said. "I walked away with my life."
He passes along an important lesson.
"Take it easy. And if you want to go out and do that kind of driving, take it to a track."
Copyright 2013 CBS 5 (KPHO Broadcasting Corporation). All rights reserved.