Troubled Valley day care had 47 citations on last inspection
Posted:
Updated: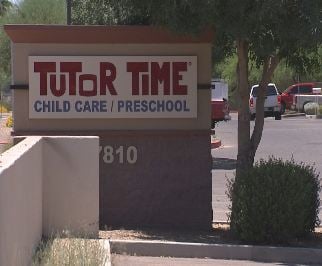 PHOENIX (CBS5) -
Another parent has come forward, accusing a teacher at a Valley daycare center of questionable conduct.
The allegation comes a day after a former teacher from a Phoenix Tutor Time told CBS 5 News that two caregivers had allegedly mistreated children.
The former teacher said that one caregiver allegedly threatened to kill an 18-month-old boy because he was acting-up, and another teacher allegedly hit children on the hands for misbehaving.
CBS 5 News looked up the latest state inspection report for the Tutor Time, off Lower Buckeye Rd. and 78th Ave., and found 47 citations.
"That's scary," said parent Charlotte Mosely. "Is my child's safety going to be in danger? Are they really watching the kids? It makes you wonder."
CBS 5 News went to Arizona's Department of Health Services to ask why state officials haven't taken any action against Tutor Time, which was cited in January for failing to ensure staff to child ratios, failing to verify "fingerprint clearance cards" for some employees as part of mandatory background checks and not providing enough drinking water for enrolled students.
Acting deputy director for licensing Tom Salow said that none of the violations were considered an immediate threat to children's safety.
"The facility you are talking about here, a lot of the violations were paperwork violations or posting or label type violations," Salow said. "If someone online looked at all 47 of those violations, there was nothing that indicated we need to go back out there quickly."
However, parents like Joanna Alvillar don't consider background check blunders a minor issue.
Especially after learning, that her 18-month old son Sebastian may have been threatened and slapped in class.
Another parent, Valine Quidera, said that she pulled her son out of a class because she didn't like how a teacher grabbed him.
"They should be fired," said Quidera. "They shouldn't be working with little kids, if they are hitting them in any way. They have to be safe."
Tutor Time released this statement:
"We take all issues with our school and staff very seriously and work hard to assure compliance with state regulations. Actions to address the concerns noted in the most recent licensing review have been taken. Many were corrected at the time of the reviews and the plan for correction of the remainder was submitted in a timely manner. The former teacher's allegation was investigated both internally and by the proper authorities. Both investigations found no substantiation for the allegations and as a result, no corrective action is needed."
However, CBS 5 News has learned that this statement is not entirely accurate. State officials have not yet completed their investigation and released their findings.
People interested in doing a background check on any day care facility across the state, go to http://hsapps.azdhs.gov/ls/sod/SearchProv.aspx?type=CC
Copyright 2013 CBS 5 (KPHO Broadcasting Corporation). All rights reserved.