Historic Marble Canyon Lodge destroyed by fire
Posted:
Updated:

(Source: www.marblecanyoncompany.com)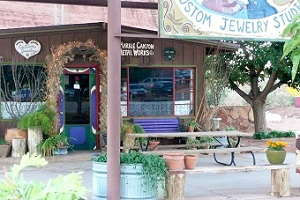 Picture taken at Marble Canyon Lodge. (Source: Gwen Sick)
FLAGSTAFF, AZ (CBS5) -
The historic 1926 Marble Canyon Lodge and Restaurant on Highway 89A is a total loss after it caught fire early Tuesday morning.
The owner of the Marble Canyon was in a nearby residence when the burglary alarm woke him at 1:30 a.m. Tuesday morning, along with a call from the alarm company's dispatch center, according to the Coconino County Sheriff's Office.
Deputies said that the owner witnessed flames and a large amount of smoke coming out of the back of the building when he walked outside to see why the alarms were going off.
Construction workers who were staying at the Marble Canyon Motel tried to put the fire out using their two company-owned water tanker trucks as firefighters were on their way.
At roughly 3 a.m. firefighters from Page arrived on scene. Other nearby agencies also responded to help fight the fire, including the Fredonia Fire Department, Colorado City/Hildale Fire Department, Page Electric, National Park Service rangers from Lee's Ferry and the Kane County Medical Transport.
The CCSO along with fire investigators from the Flagstaff Fire Department are working to determine the cause of the fire.
There was no damage to the newer building where the post office is located nor the convenience store.
The Marble Canyon Lodge is located 125 miles north of Flagstaff near the Colorado River at Lee's Ferry.
Copyright2013 CBS 5 (KPHO Broadcasting Corporation). All rights reserved.