UPDATE
AZ leaders weigh in on citizenship proof law decision
Posted:
Updated: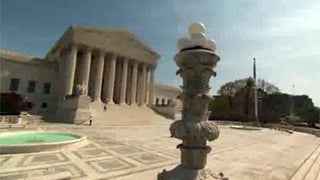 U.S. Supreme Court
Arizona leaders and groups are weighing in a Monday's U.S. Supreme Court decision that the Arizona citizenship proof law is illegal.
The justices voted 7-2 to throw out Arizona's voter-approved requirement that prospective voters document their U.S. citizenship in order to use a registration form produced under the federal "Motor Voter" voter registration law.
Here's a sampling of reaction from various national and state leaders.
AZ Attorney General Tom Horne:
"The U.S. Supreme Court has given us a clear path to victory for the people of Arizona, who overwhelmingly approved the state constitutional amendment that was the subject of the legal challenge," Horne said. Since the U.S. Supreme Court has made it clear that this pathway exists, Arizona should use it. The sanctity of the ballot box is a cherished right for all Americans and it must be protected."
AZ Secretary of State Ken Bennett:
"In 2004, Arizona voters enacted Proposition 200, a ballot measure that required voters to show ID at the polls and proof of citizenship when they register to vote," said Secretary of State Ken Bennett. "After nearly 10 years of legal proceedings, we were disappointed to learn that the U.S. Supreme Court ruled against the state's ability to require additional documentation of citizenship from a voter who doesn't provide it on the federal voter registration form.
"While disheartened with the court's decision, we were encouraged by its recognition that Arizona is not prohibited from denying registration based on information in the state's possession which indicates the applicant is not eligible - precisely the procedure currently employed by the state's county recorders.
"In addition, we plan to renew our request of the Election Assistance Commission to include information necessary to determine eligibility on the federal form as suggested by Justice Scalia. If the Commission once again refuses, we plan to pursue further litigation under the Administrative Procedure Act to include this information to determine eligibility.
"Election integrity starts with voter registration. We strongly believe citizenship is the foundation from which eligibility is derived and we will continue to look for ways to ensure only eligible citizens are casting ballots in our elections."
Petra Falcon, executive director of Promise Arizona:
"The Supreme Court today confirmed what we've known for years: Arizona's Proposition 200 was ultimately aimed at suppressing Latino voter turnout under the guise of a bogus claim that Arizona needed to prevent election fraud.
"Arizona political leaders are again reminded they cannot ignore federal law to suit their own repressive, anti-democratic and anti-immigrant practices. We're pleased with the court's ruling, but this decision comes even as conservatives in the State Legislature are trying to ram through their own voter suppression bill.
"If Gov. Brewer decides not to veto HB 2305, expect to see us back in court to overturn that law as well. The ruling on Proposition 200, the federal court finding against local Sheriff Joe Arpaio for racially profiling Latinos, and the rejection at the polls, twice, of ex-Sen. Russell Pearce, the author of the "show us your papers" law all clearly reject the efforts to attack immigrants instead of acknowledging they're here to stay and here to benefit our society."
AZ Rep. Kyrsten Sinema:
"Last November, as Arizona State University students lined up to vote, some were turned away or forced to cast 'provisional' votes because they had registered to vote via a federal voter registration form. Today's Supreme Court decision, which requires Arizona elections officials to accept the federal registration form as a valid document, reaffirms our students' right to register and vote. I'm pleased with the Court's decision and trust that ASU students will be able to register and vote in future elections."
Democratic Rep. Martin Quezada, (District 29):
"The United States Supreme Court made the right decision on the issue of federal voter registration forms. Today's ruling will help protect the immigrants, minorities and senior citizens who were negatively affected by Arizona's registration policy.
"Arizona has a history of creating barriers around the voting process. A prime example of this is the Republican-led Legislature's support of HB 2305, a bill that was amended to make it more difficult for voters to get access to the ballot and will likely result in fewer people participating in upcoming elections. HB 2305 is on its way to the governor's desk and if enacted, it will almost certainly be challenged in the courts, as are many of our state's election laws. Arizona's unfortunate history of voter discrimination has led to the U.S. Justice Department's scrutiny of our election laws under the Voting Rights Act.
"The system is in place to ensure that eligible voters have access to the ballot. Today's decision will result in more eligible voters having an opportunity to participate in the election process. Ultimately, our country and our democracy are stronger when more people get involved. I am hopeful that, in the end, justice will prevail and voters' rights will be protected."
State Rep. Steve Montenegro:
"It is common sense that since you must be a citizen to vote, you should be required to show proof of citizenship before you register. Prop 200 was a common-sense solution to this problem and I commend Attorney General Tom Horne for defending the law.
"I am troubled by Justice Scalia¹s assertion that Arizona still has ways of getting the job done by asking permission from the Elections Assistance Commission. He pointed out that in recent years Louisiana requested and was granted such permission. Yet today, that commission has no members, making it impossible for Arizona to seek such relief.
"Should the commission ever regain voting members, Arizona¹s Secretary of State should move to immediately secure such permission.
"In the meantime I will continue to advocate for protecting the integrity of our election system, from voter registration to ballot handling to vote tabulating. Arizona¹s voters, like voters everywhere, deserve fair, honest, and transparent elections."
NAACP President & CEO Benjamin Jealous:
"State government should encourage voting, not discourage it. The Supreme Court made the right decision to strike down Arizona's proof-of-citizenship law. We need to find innovative ways to make voting easier and more accessible for Americans, rather than coming up with new ways to suppress it."
Opponents of Arizona's law see it as an attack on vulnerable voter groups such as minorities, immigrants and the elderly. They say they've counted more than 31,000 potentially legal voters in Arizona who easily could have registered before Proposition 200 but were blocked initially by the law in the 20 months after it passed in 2004. They say about 20 percent of those thwarted were Latino.
Copyright 2013 CBS 5 (KPHO Broadcasting Corporation). All rights reserved. The Associated Press contributed to this report.