Mobile app takes aim at AZ immigration law abuses
Posted:
Updated: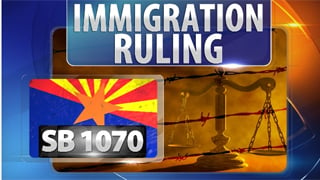 CBS 5 News
PHOENIX (CBS5) -
A new mobile app aimed at reporting SB1070 abuses is set to be unveiled Tuesday by the American Civil Liberties Union of Arizona.
The app is one part of a bilingual campaign to encourage people across the state to report abuses under Arizona's racial profiling law.
Other facets of the campaign include multimedia presentations, videos and interactive Web features for people to report abuses.
Just days after the U.S. Supreme Court upheld Section 2(B) of SB1070 nearly a year ago, the ACLU set up a community hotline for people to report incidents of racial profiling and illegal detentions.
Since then, the organization said it has fielded more than 6,000 calls, including calls from people with "lawful status," such as deferred action recipients, crime victims and domestic violence survivors, who were detained for prolonged periods of time.
While the courts have blocked most of the law's provisions, the U.S. Supreme Court allowed the "show me your papers" provision to take effect. That portion of the law, also known as Section 2(B), requires local police to contact federal immigration officials to verify a person's immigration status.
The law, however, does not permit local law enforcement agencies to detain individuals longer than necessary to clear up the reason for the stop, generally a traffic violation, in order to investigate their immigration status.
However, the ACLU said it has documented numerous reports of police departments regularly engaging in such illegal detentions in their attempts to comply with Section 2(B).
Details of those reports will be announced during a 10 a.m. news conference Tuesday at ACLU-AZ offices at 3707 N. Seventh St, Suite 100, in Phoenix.
Copyright 2013 CBS 5 (KPHO Broadcasting Corporation). All rights reserved.