UPDATE
Hikers, horseback riders rescued from AZ mountains
Posted:
Updated: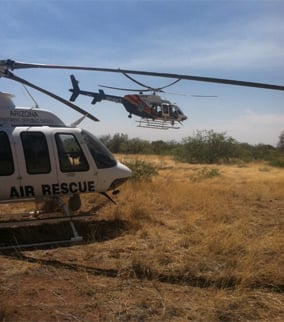 (Source: Arizona Dept. of Public Safety)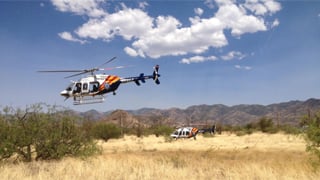 (Source: Arizona Dept. of Public Safety)
BISBEE, AZ (CBS5) -
Several hikers and horseback riders lost in Arizona mountains were located in separate rescues the past two days, the Cochise County Sheriff's Office said.
A family on horseback was stranded Tuesday night in the Chiricahua Mountains after they were unable to follow their map because of trails degraded from fires and the monsoon over the past few years.
A man called the sheriff's office and said that he, his wife and 8-year-old daughter were running low on water and cell phone battery life. Deputies were able to get his GPS coordinates.
Sheriff's officials, along with volunteers and helicopter support from the Arizona Department of Public Safety in Phoenix and Tucson successfully located the mother and daughter and airlifted them from the scene. Volunteers hiked into the area to attend to the husband and the horses before hiking them back out.
A second DPS helicopter was dispatched to help transport more rescuers to the scene and to provide additional water for the male victim and horses.
On Tuesday, the Cochise County Sheriff's Office received a call concerning two lost hikers in the Dragoon Mountains. The caller said that she, along with her fiancée and another friend, had been hiking for a "couple of days" and were lost. She also states the group had been without water for the past 24 hours.
Search and Rescue volunteers were mobilized along with DPS air support from Tucson.
Search and Rescue personnel found the trio and saw that they were severely dehydrated. All three were taken to the Northern Cochise Community Hospital in Willcox by Sunsites Fire Department medics, where they were treated before being released.
Copyright 2013 CBS 5 (KPHO Broadcasting Corporation). All rights reserved.