Pet emu chase through AZ desert ends in bird's death
Posted:
Updated: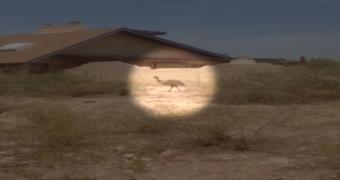 Photo of the emu as it was being chased. (Source: Tempe Police Department)
TEMPE, AZ (CBS5) -
A pet emu died in the heat after it escaped from his owner's home and was chased through the desert by Tempe police and zoo experts.
The 85-pound bird, named Ichabod, got loose near near Papago Park after somehow escaping from its owner of 35 years.
"Law enforcement is used to getting loose dogs or cats, but a loose emu is really outside the box for us," said Tempe police Commander Noah Johnson.
Johnson said the call came in at about 11:20 a.m. Wednesday.
"A witness saw it out running around through the neighborhood and called for police assistance to try to apprehend it," Johnson said.
The witness knew a neighbor who owned it.
Johnson said four or five officers tried in vain for more than an hour to capture the animal but their efforts proved unsuccessful.
"We obviously didn't have the proper equipment," Johnson said.
So, police called the Phoenix Zoo for help.
"We mustered our forces and rolled out here to assist in corralling it," said Rick Sartos, director of Living Collection at the Phoenix Zoo.
Sartos said they were finally able to corner the emu.
"Pressed him against the fence and jumped on him," Sartos said. "They have very powerful legs so they're really dangerous."
Sartor said the likelihood of him surviving the heat with his age was not high.
"Well that's a very aged emu," he said. "That's a senior being chased and jumped on in the high heat. It's not a good formula for success."
Due to the extreme heat and his extreme age, the emu died.
"The lesson to all of us is how dangerous this heat is," Johnson said.
Emus are the second largest member of flightless birds, according to emufacts.com. They are the national bird of Australia.
"My heart goes out to the owner," Sartos said. "I wish it was resolved better.
Copyright 2013 CBS 5 (KPHO Broadcasting Corporation). All rights reserved.