ASU Women's Track and Field Takes 10th at NCAAs
Posted:
Updated: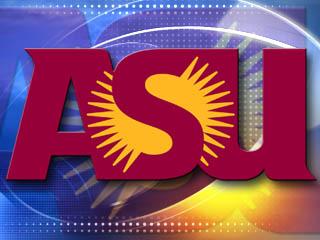 © cbs 5
PHOENIX (CBS5) -
Shelby Houlihan earned All-America honors at 1,500 meters and the Arizona State University women's track and field team finished 10th at the 2013 NCAA Outdoor Track and Field Championships in Eugene, Ore., on Saturday.
The Arizona State men finished tied for 28th overall.
Houlihan finished seventh overall in a stacked 1,500-meter race in a time of 4:14.95 in a race where the first seven positions were separated by less than two seconds.
With the result, Houlihan became the just the second Sun Devil to ever score at 1,500 meters in school history behind only Lisa Aguilera in 2000, who finished eighth.
Houlihan set the school record earlier this year in the event earlier this year and ran several races this season that were better than the previous school record held by Priscilla Hein, which had stood for over a decade.
Anna Jelmini wrapped up her season with an 11th overall in the women's shot put with a best throw on the day of 16.34m (53-07.50). She will earn second-team All-America accolades for the finish two days removed from becoming the NCAA individual champion in the discus.
The Sun Devil women finishes the week with two national championships, helping them to 28 points and the team's highest finish at the NCAA meet since taking third in 2009. It was the fifth top-10 finish in the last eight years for the women.
The men finished the weekend with eight points, all of which came from Jordan Clarke's runner-up finish in the men's shot put on Wednesday.
ASU finished the weekend with five first-team All-Americans and three second-team All-Americans as well as one second-team All-America relay.
Kansas won the team championship on the women's side while Texas A&M and Florida tied for the team championship on the men's side.
Several Sun Devils will now turn their sights the USA Championships, set to take place at the end of the month in Des Moines, Iowa.
NCAA CHAMPIONSHIP FINISHES
Chelsea Cassulo (Hammer) – NCAA CHAMPION – 69.12m (226-09)
Anna Jelmini (Discus) – NCAA CHAMPION – 57.95m (190-01)
Jordan Clarke (Shot Put) – Second – 20.28m (66-06.50)
Keia Pinnick (Heptathlon) – Third – 5,984 points
Shelby Houlihan (1,500m) – Seventh - 4:14.95
Men's 4x100m Relay (Spann, Henry, Burrows, Milus) – Ninth – 39.44
Ryan Milus (100m) – 11th – 10.14
Anna Jelmini (Shot Put) – 11th – 16.34m (53-07.50)
Christabel Nettey (Long Jump) – 13th – 6.24m (20-05.75)
Cameron Taylor (100mH) – 18th – 13.98
Women's 4x400m Relay (Geren, Herring, Hardge, Tate) – 23rd – 3:39.93
Copyright 2013 CBS 5 (Meredith Corporation). All rights reserved.