Nik Wallenda talks trains for high-wire walk across Grand Canyon
Posted:
Updated: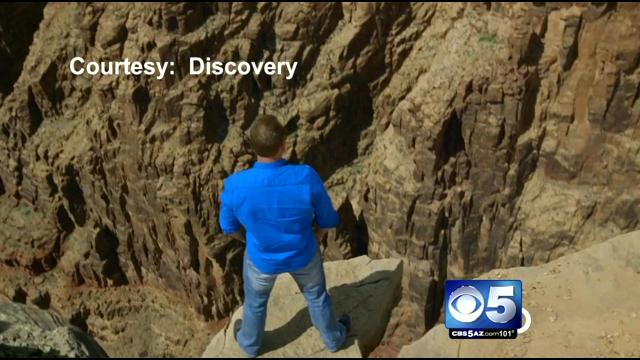 Nik Wallenda (Source: Discovery)
PHOENIX (CBS5) -
The tropical storm force winds that swept through Florida on Thursday sent plenty of people scampering inside. One man, though, was more than eager to experience the weather's unpredictability.

High-wire performer Nik Wallenda is in training for his June 23 walk across the Grand Canyon. Winds of up to 46 miles per hour at his training site in Sarasota, FL, were a welcomed addition to Wallenda's practice.

Wallenda thrilled a worldwide live television audience with his death-defying high-wire walk across Niagara Falls last June.

All his life, though, he tells CBS 5 News in an exclusive interview, he has had his sights set on Arizona after a family trip years ago.

"I was probably 8 or 9 and they (Wallenda's parents) brought me to the Grand Canyon and I thought, this would be a cool place to walk and I never forgot that," said Wallenda.

The daring performer's upcoming walk into the history books will air live on the Discovery Channel. Wallenda is planning a high-wire walk 1,500 feet over the Little Colorado River that's more than 1,200 feet across.

"Fear is a choice but the danger is real. In my mind I can control my thoughts," said Wallenda. "So when I look over the edge of something, I say yes this is dangerous, but it's also possible to walk on a wire."

For that live television event at Niagara Falls, the network airing Wallenda's walk forced him to wear a safety harness. That is something he had never done before. He will not be wearing a safety harness during his walk across the Grand Canyon.

"They (the Discovery Channel) are allowing me to do this without safety whatsoever which is the fashion that my family has always performed in," said Wallenda.

Wallenda, a seventh generation high-wire walker, brushes off the notion he is a daredevil.

"Over 200 years we've been walking wires. My mom always said it's definitely in my genes and my blood and it comes very naturally to me," said Wallenda. "I consider a daredevil someone who would go to the Grand Canyon tomorrow, rig a cable from one side to the other and say all right I'm gonna walk it. This is something that's been years in the making. Matter of fact, we started doing studies back in 2008."

The event is taking place east of Grand Canyon National Park in a remote area of the Navajo Nation near Cameron, AZ. It is a location so far off the beaten path, Wallenda's field team had to build a mile-long road just to access it.

Despite large live audiences at previous high-wire walks, even though millions of people will be watching on television, very few will be at the actual site of the walk.

"It really is just going to be me the canyon and the cameras. It's intimate. It's me fulfilling a dream I've had for a long time," said Wallenda.

Skywire Live with Nik Wallenda airs at 5 p.m. PST on Sunday, June 23 on the Discovery Channel.

You can click HERE to learn more about Wallenda and Skywire Live.
Copyright 2013 CBS 5 (KPHO Broadcasting Corporation). All rights reserved.