Anti-amnesty protestors camp out in desert
Posted:
Updated: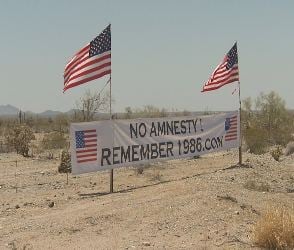 GILA BEND, AZ (CBS5) -
The debate over immigration heated up in the Arizona desert Friday.
A group of protestors ignored all the high heat warnings to set up camp in the middle of nowhere to send a message to lawmakers in Washington.
The campsite was located near milepost 124 off Interstate 8, near Gila Bend.
Motorists driving by could see rows of American flags, "No Amnesty" signs, and some folks camping out in the 110-degree heat.
"It doesn't feel crazy," said protestor Lisa Breshears. "Doesn't feel crazy to me. I'm good with it."
The protestors wanted to take a stand in the debate over immigration, and decided the best way to do it was to spend three straight days in the Arizona desert, organizers said.
Minuteman Robert Crooks told CBS 5 News that their message is pretty clear. They want to stop lawmakers in Washington from passing an immigration reform bill that includes a pathway to citizenship.
"I'm trying to open the eyes of the American people of the harsh realities of illegal immigration and drug smuggling and what it's doing to inner cities of America," said Crooks. "We need to secure the border and stop amnesty. No amnesty."
Most of the protestors are members of Arizona minutemen and militia groups.
They said that they picked this remote location to hold their protest because the area is a popular spot for human and drug smuggling.
A nearby sign says, "Travel caution: Smuggling and illegal immigration may be encountered in this area."
"This is our form of communication," said protestor Rusty Childress. "We're out here in the heat, with American flags, no amnesty banners and we're talking to people coming by. Any way we can find our way of getting 2 cents on this issue, we'll do it. We just want to be listened to."
The protest will continue around the clock until Sunday.
Copyright 2013 CBS 5 (KPHO Broadcasting Corporation). All rights reserved.