UPDATE
Phoenix police release new details in 'murder-for-hire' plot
Posted:
Updated: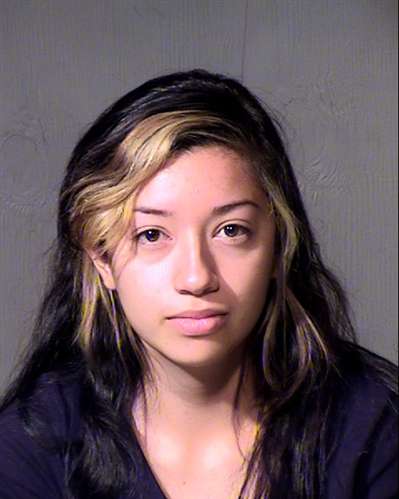 Bernadette Beanes (Source: Maricopa County Sheriff's Office)
PHOENIX (CBS5/AP) -
Phoenix police on Monday released more evidence in the case against a female inmate accused of trying to hire a hitman to kill witnesses in her case.
Bernadette Beanes is accused of helping her boyfriend Israel Celis, 32, kidnap his estranged wife and their 3-year-old son on May 20, 2013. Celis died in a standoff with police.
Authorities said Celis bound the woman and sexually assaulted her at a Tolleson hotel before leaving with the boy and Beanes.
Celis later fatally shot himself to end the standoff.
Prosecutors said Beanes faces a murder charge because Celis died in the commission of a felony she's accused of participating in.
In June, Beanes pleaded not guilty to charges stemming from the kidnapping and abduction that ended in a 12-hour police standoff in west Phoenix.
A grand jury indicted Beanes on 41 felony counts, including 38 counts for aggravated assault, eight counts of kidnapping and one count of first-degree murder.
Beanes is also accused of offering to pay undercover detectives $20,000 to murder four people, including a 9-year-old boy.
Phoenix police detectives learned in September 2013 that Beanes was looking to hire someone to kill four people believed to be victims in the May 2013 kidnapping Beanes was involved in.
Police said Beanes agreed to pay $5,000 for each of the four witnesses while she was in Phoenix's Estrella Jail.
A police report released on Monday states that beginning in mid-December, Beanes began approaching fellow inmates and allegedly solicited their help in a plan to kill the witnesses in her case.
On Jan. 6, Beanes approached a Maricopa County Sheriff's Office detention officer and tried to get his help to transport the bodies across the border to Mexico, according to the police report.
She asked to use the officer's badge and uniform to facilitate crossing the border with the bodies, the police report stated.
On Jan. 10, an undercover Phoenix Police Department detective visited Beanes at the Estrella Jail. Beanes told the detective that she needed four people killed who were witnesses in the case against her. The detective recorded the conversation:
Detective: Let me ask you this: one of these people a kid?
Beanes: Um hmm.
Detective: How old?
Beanes: Eight.
Detective: You're sure about that? Yeah? Sure?
Beanes: Yeah.
Detective: Because it's a kid, know what I'm saying...
Beanes: I know.
Detective: ...sometimes the rules change on account of that.
Beanes: I know.
Beanes told the undercover officer she didn't care how they were killed but preferred that it look like an accident.
On Jan. 14, Beanes declined to speak with Phoenix Police Department investigators, denied involvement in any kind of conspiracy and denied ever meeting with the undercover detective.
On Jan. 28, she was re-booked on a new charge of conspiracy to commit murder.
Stay with cbs5az.com and CBS 5 News for updates on this developing story.
Copyright 2014 CBS 5 (KPHO Broadcasting Corporation). All rights reserved. The Associated Press contributed to this report.
UPDATE

Phoenix police release new details in 'murder-for-hire' plot

More>>

SLIDESHOW: Butler's home


More >