Serious firepower found in home's secret hiding space
Posted:
Updated: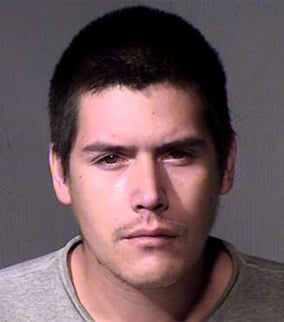 Colt Weber (Source: Maricopa County Sheriff's Office)
GLENDALE, AZ (CBS5) -
Officers discovered stolen police uniforms and thousands of rounds of ammunition during a search of a Glendale home suspected of being a drug house.
A judge approved the search of the home near 51st Avenue and Peoria after Glendale police officers got enough evidence to believe the man who lived there was dealing meth.
"They made several stops of people that were leaving the residence and they actually made several arrests of people that had left the residence that were in possession of methamphetamine," said Glendale police spokesman Sgt. Jay O'Neill.
The search warrant was served on May 23. Once inside, officers arrested 30-year-old Colt Weber. They said they noticed he had leftover construction spackle on his hands and clothes. Almost immediately, police said they found a stolen semi-automatic pistol by the front door.
As they continued their search, they found a secret compartment.
"It was hidden behind a wall that the officers actually had to tear down to access the stuff," O'Neill said.
Officers found 12 more guns, assault rifles, three Scottsdale police uniforms with sergeant's stripes, two ballistic vests, a police duty belt, two badges and 10,000 rounds of ammunition.
"We do know that of the 12 weapons there were several assault rifles," O'Neill said. "Four of them were stolen. There was also several fully automatic weapons and also an illegal shotgun."
The Scottsdale uniforms and badges were traced back to the burglary of a retired Scottsdale police sergeant's home two years ago.
Weber claimed he was a pawn dealer and took in the items for his business. Drugs were also located along with nearly 50 other type of weapons, including swords and smoke grenades.
"This person had the potential for some serious violence within the city of Glendale," O'Neill said.
The weapons were found to be stolen out of various cities across the state. Weber told police he didn't know they were stolen but police are looking at whether he may be tied to a larger weapons smuggling operation.
Weber faces a variety of charges, including five counts of theft and four counts of prohibited weapons.
Copyright 2013 CBS 5 (KPHO Broadcasting Corporation). All rights reserved.