2-0 win against Georgia secures no. 4 ASU Softball trip to Super Regionals
Posted:
Updated: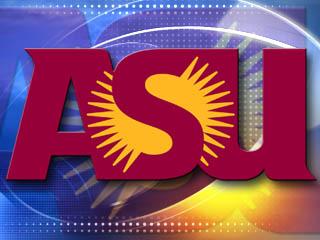 © cbs 5
PHOENIX (CBS5) -
Fourth ranked and fifth-seeded Arizona State softball (48-10) advanced to the Super Regionals of the NCAA Softball Tournament next weekend, after eliminating Georgia in a 2-0 decision in the NCAA Tempe Regional at Farrington Stadium on Sunday.
Dallas Escobedo (28-4) put forth yet another admirable effort, improving to 3-0 on the weekend behind another complete game, holding Georgia (40-21) scoreless for the second consecutive game. Escobedo gave up just three hits with five strikeouts and no walks in seven innings of play.
Starting pitcher Chelsea Wilkinson (8-6) took the loss for the Bulldogs, giving up two runs in one inning of play. Georgia brought in Morgan Montemayor who finished off the final six innings with no runs scored.
NOTES
ASU is now 81-47 in the NCAA Tournament. Holding a 28-3 record at Farrington Stadium under Clint Myers. ASU has advanced to the Super Regionals the past eight consecutive years, since 2006, all under head coach Clint Myers.
All of ASU's WCWS appearances (6) under Myers have come after hosting a Super Regional in Tempe. Lone year without an appearance was 2010. The two stolen bases on Sunday are the first pair since ASU stole two on March 29 against Oregon State and the first stolen base since May 4 at Arizona.
ASU is 23-2 when scoring in the first inning. The Sun Devils are also 41-4 when scoring first. ASU has 124 two-out RBI on the season, compared to just 47 for opponents. Bailey Wigness is hitting a team best .667 in the postseason, with four hits, two runs and a .714 on-base percentage. ASU is out hitting opponents 20-4 in the postseason.
IN THE POSTSEASON
Myers: 51-13; 28-3 at home in postseason
ASU: 81-47
Escobedo: 17-4; 3-0 in 2013
Popescue: 0-0; 0-0 in 2013
Copyright 2013 CBS 5 (Meredith Corporation). All rights reserved.