Wildcats' Freeman post personal best
Posted:
Updated: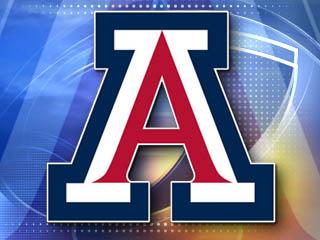 © cbs 5
PHOENIX (CBS5) -
The University of Arizona Wildcat men's and No. 7 women's track and field teams concluded competition at the Tucson Elite Classic on Saturday at Roy P. Drachman Stadium.
Sophomore Baillie Gibson posted the third-best mark of her career in the women's hammer throw at 196-9 (59.97m). That toss was good for 11th place. Senior Taylor Freeman had a personal-best toss of 196-8 (59.94m) and finished in 12th place. She now holds the No. 4 toss in UA history. In the men's hammer, senior Tyler Johnson had a toss of 207-0 (63.09m), the second-best mark of the season for Johnson.
In the women's discus competition, Gibson's mark of 174-8 (53.25m) was good for 11th place. Senior Alyssa Hasslen earned an 11th-place finish with a toss of 172-10 (52.68m). Freeman had a mark of 170-8 (52.03m) and took 14th place. The Roy P. Drachman facility record of 64.46m that was set by former Wildcat Meg Ritchie was broken on Saturday night. Gia Lewis-Smallwood (Nike) won the competition with a toss of 214-10 (65.49m). That mark also meets the World Championships "A" Standard.
For the women's shot put, Hasslen took first place with a toss of 54-4.75 (16.88m). Gibson's mark of 52-8 (16.05m) was good for second place overall. Junior Omotayo Talabi had a toss of 50-4.5 (15.35m) and finished in fourth place. Senior Asia Easley finished in seventh place in the women's javelin competition with a toss of 139-7 (42.54m).
In the men's high jump competition, the only two jumpers were seniors Edgar Rivera-Morales and Nick Ross (unattached). Ross took second place with a clearance of 7-1 (2.16m). Rivera-Morales's clearance of 7-3 (2.21m) was good for first place.
The collegiate competitor's marks do not count towards qualifying for the NCAA Championships Preliminary round. Those fields have already been announced. For continued coverage of Arizona Wildcat men's and women's track and field, visit ArizonaWildcats.com.
Copyright 2013 CBS 5 (Meredith Corporation). All rights reserved.