Best Buddies proms held across Connecticut
Posted:
Updated: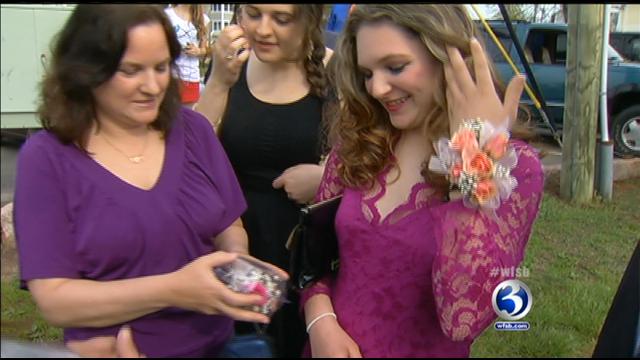 ROCKY HILL, CT (WFSB) -
May is a peak month for proms, and recently Channel 3 Eyewitness News visited with two young women who were preparing for a Best Buddies Prom.
Eden Wooster and Justine Parolise are best buddies on many levels.
Parolise said that Wooster is "A nice person to talk to and she's a good friend, a good pal."
Wooster spoke just as kindly about Parolise.
"She's really incredible. She's a sister to me. I'm so lucky to have been paired with her. She's an incredible person," she said.

The two were paired through an organization called Best Buddies, which has a chapter at Branford High School.

"Best Buddies was started by Anthony Kennedy Shriver back in 1989 and it really was an opportunity to celebrate friendship and provide an opportunity for young people with and without intellectual disabilities to get together and have a great time and support each other with friendship," said Darlene Roberts, the state director of Best Buddies.

The buddy pairs do all kinds of things together, both in and out of school.
Wooster said she and Parolise text each other, call each other and do other activities together, including going to the movies and taking Zumba classes.
"Really, when you look back on your high school experience, you think about that one friend and how those meaningful relationships helped shape who you are," Roberts said. "We're trying to bring that to young people across the state of Connecticut through this program. And Best Buddies has absolutely influenced school culture and reduced bullying."
The Best Buddies Prom is one of the biggest and most anticipated events of the year.
"I love to dance and get dressed up," Parolise said.

After doing hair, makeup and getting dressed up, the young women headed to the beach to meet up with other buddy pairs and their parents who were excited to take pictures.
This is actually Parolise's sixth Best Buddies Prom.
Her mom told Channel 3 Eyewitness News she has challenges as a result of having a stroke at the time of her birth and said the group has been great for her daughter.
"She just wants to be included with the rest of the school and the rest of the things that are going on," her mother said. "Best Buddies really does do that."
With the final snapshots taken and a quick exchange of boutonniere and corsage between Parolise and a friend complete, the group boarded their bus at North Branford High School and made their way to Branford, where this regional prom was taking place.
It didn't take long for everyone to get on the dance floor and show off their moves.
Some danced by themselves, others danced in groups. All seemed to enjoy living the high school experience known as the prom to the fullest. One might say this event has more meaning to these students than to most.

"I feel like it doesn't matter if you're special needs or not," Parolise said. "People still want to act and feel the same way as regular kids and stuff, and I feel like people should just treat them the same way that they would treat other kids."
There are Best Buddies chapters in 28 Connecticut high schools, and the Friday's prom at Rocky Hill High School is the third and final one for the year.

Copyright 2013 WFSB (Meredith Corporation). All rights reserved.