Your Health
Homemade bug spray, sunscreen put to the test
Posted:
Updated: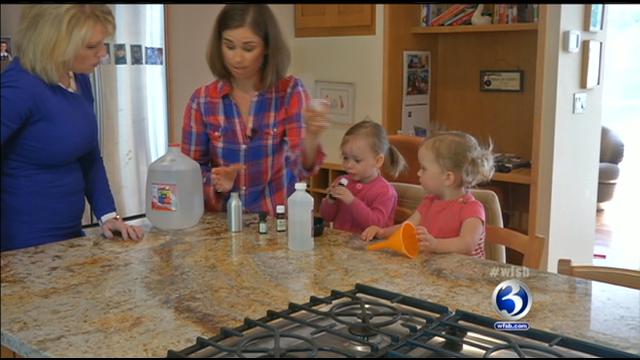 WEST HARTFORD, CT (WFSB) -
Summer is around the corner and that means a lot of time outside with your family. It could also mean sunburns and bug bites if you're not careful.
In Thursday's Your Health segment, Channel 3 Eyewitness News takes a look at others who make their own bug spray and sunscreen, and whether it really works.
With the help of her 2-year-old twins, Meredith Magee Donnelley made her own bug spray in West Hartford.
"Bug spray is so simple," she said. "The bugs dislike essential oils. They're a quick purchase."
Using essential oils like peppermint, lavender and clove, she whipped up a batch in a spray bottle and doesn't have to worry about what she thinks are cancer-causing chemicals in conventional bug spray or the cost of sprays already made
"They're really expensive," she said. "Being a stay-at-home mom, those costs add up really quick since I lost my salary. The recipes are simple and most of the things we can find right in our grocery store."
So the sprays seem relatively easy to make, but do they work?
"They are repelled by certain plants because plants have certain oils that are for their own protection," said Dr. Marie Mammone.
She said bugs avoid those essential oils, so homemade bug sprays really do work. She also said the recipes you see all over Pinterest for homemade sunscreen can work too, if they have the right ingredients like zinc oxide and a moisturizer.
"They're just as effective as the other ones if they're used correctly," Mammone said.
She said making your own allows you to cut out the chemicals in some of the store-bought bug sprays and sunscreens.
"You're spraying it, it's all over and it can get into your eyes," she said. "You're inhaling all those little particles."
Donnelly said making her own bug spray has turned out to be a fun project with her girls with the benefit of keeping them safe.
To check out Donnelley's website, click here.
You can also head to Pinterest to look for other recipes for homemade sunscreens and bug sprays, but Channel 3 Eyewitness News cannot speak to their efficiency.

Copyright 2013 WFSB (Meredith Corporation). All rights reserved.