CBS premieres new reality show 'The American Baking Competition'
Posted:
Updated: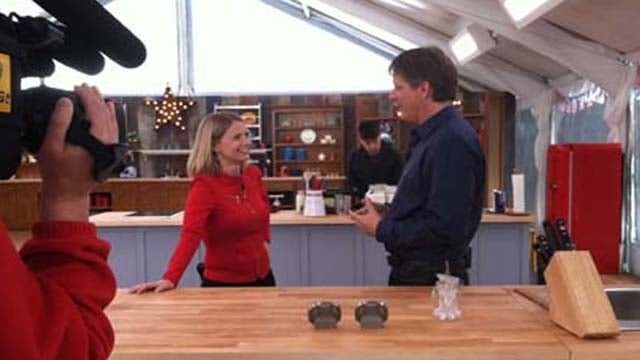 ATLANTA (CBS46) -
CBS premieres a new reality show called The American Baking Competition on May 29.
The TV series was shot in Ball Ground, GA, with metro-Atlanta resident Jeff Foxworthy hosting.
Only CBS Atlanta News was granted on-set access along with a special one-on-one interview with Foxworthy.
Jocelyn Connell: Were you excited to host the show?
Jeff Foxworthy: I got a call, and they said, 'Would you be interested in hosting a baking show?' And I laughed and said, 'No, I don't think so.'
The show features ten amateur, but skilled, bakers from across America. One contestant's even from Johns Creek! Each week they compete in various challenges. In the end, the judges will only pick one winner to receive cash and a cookbook publishing deal.
JC: So what changed your mind?
JF: (Foxworthy watched the U.K.'s smash hit version of the show, now entering its fourth season and was hooked.) It's more than just a cooking show…. There's competition. There's people doing things they've never done before, and they're not pros at it. That's the fun of it.
JC: Did you get to eat the leftovers?
JF: Put it this way….When I do chin-up's, there's options. I've got like six chins going.
JC: What's your favorite food?
JF: I'm southern. I love barbeque, kind of a barbeque guy. I have turned everyone onto Chick-fil-A because I'm from Hapeville (where Chick-fil-A was founded), my hometown where I started. So all of these people from L.A. are like, 'What's that?' So I turned them onto that.
JC: Did you ever think you'd be a comedian, that you'd be doing what you do, a T.V. personality?
JF: No, never. As a kid, I would save my allowance and buy like Bill Cosby records and Flip Wilson records and memorize them and go to school and do them. I was in the principal's office a lot.
Foxworthy graduated from Hapeville High School and then Georgia Tech, landing a job at IBM.
JF: I was the guy who was doing impersonations of the boss in the break room and getting caught every time. And so a bunch of guys I worked with used to go to the Punchline up in Roswell, and they'd come back and say, 'You're funnier. You need to do this.'
Foxworthy's co-workers signed him up for a competition.
JF: I'm like, 'I've never tired this.' So I went up there and won the competition the first night. And I was like, 'Oh my gosh! This is what I want to do!'
Foxworthy quit his job at IBM. Five years later he made it to the national stage, appearing with Johnny Carson on live television. Foxworthy, known for his blue-collar comedy, says he finds much of his inspiration from day-to-day life, even his own family.
JC: Does your family ever say, 'Awwww, why did you put that on?'
JF: My mother. She's like, 'You don't have to tell everything we do.' But I'm like, 'But they're such good stories!'
Besides his work, Foxworthy also believes in community service. He leads a weekly Bible study at Atlanta Mission and helps run a safe house for girls in Kenya.
JF: I have such a blessed life. I have healthy kids, married to the same girl for almost 30 years, love what I do for a living. Can't believe people pay me for it, and so I always take that serious.
"The American Baking Competition" premiers Wednesday, May 29 at 8 p.m. on CBS Atlanta.
Copyright 2013 WGCL-TV (Meredith Corporation). All rights reserved.
CBS premieres new reality show 'The American Baking Competition'

More>>

This month CBS premiers a new reality show called The American Baking Competition.

More >

This month CBS premiers a new reality show called The American Baking Competition.

More >