International 'healer' comes to Valley to gaze at followers
Posted:
Updated: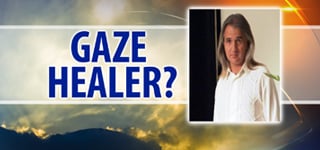 PHOENIX (CBS5) -
He's a professional gazer, who stands on stage for six to seven minutes and doesn't say a word.
Braco has brought his "special" gift to the Valley.
The 45-year-old from Croatia doesn't call himself a healer, but hundreds of thousands around the world do, including many who gathered at the Sheraton Crescent hotel in Phoenix Tuesday.
Each gazing session was $8 a person.
One believer is Kathy Vidal, a retired nurse from Sun City who recently lost her husband.
"It's helped me with the grieving process," said Vidal. "It's given me new hope to carry on. Also, I used to get very worked up over some things. Now that's gone. It's absolutely gone."
Other believers reportedly claim that Braco's healing power helped them beat cancer, find the love of their life, even recover from financial ruin.
Tabitha Schneider has been to roughly 500 sessions and often helps with the presentations.
She's convinced that Braco cured her migraine headaches and saved her daughter's life.
CBS-5 News asked Schneider what she'd say to skeptics who think what Braco is doing is a scam.
"He doesn't have a dogma. There's no philosophy," said Schneider."You don't have to read a book or eat a certain way, or pray a certain way to be here. This is open to everybody. For him, it's not about the money. It's about the gift."
"When he comes in the room, you will feel the energy," said Vidal.
Braco was trained as an economist, but at the age of 26, he met a healer from Serbia and discovered his mystical powers, according to Braco's website.
CBS-5 News wanted to speak to Braco about his special gift, but were told he no longer does interviews.
Braco will be gazing again in the Valley from 11 a.m. to 7 p.m. Wednesday at the Sheraton Crescent Hotel at 2620 W. Dunlap Ave. in Phoenix.
For more information, visit www.braco.net
Copyright 2013 CBS 5 (KPHO Broadcasting Corporation). All rights reserved.