$15M Coca-Cola secret recipe relisted on eBay
Posted:
Updated: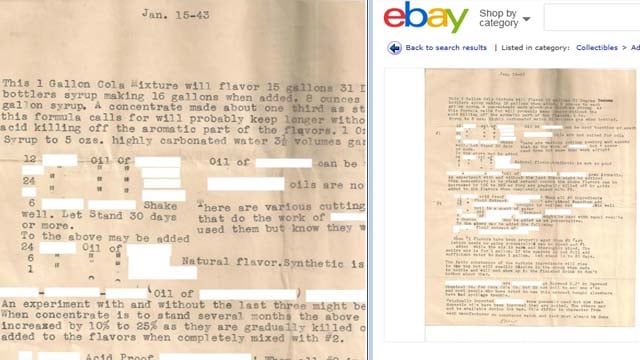 eBay ad
ATLANTA (CBS46) -
A historical document that could supposedly be the secret recipe for Coca-Cola has been relisted on eBay despite no previous takers.

A Georgia man is selling the document, claiming it to be the secret to Coke.

The eBay user crank-the-music has restarted the bid at $5 million, or you can "buy now" for $15 million.
The bidding ended just before 6:20 p.m. Tuesday with no bids but was reposted shortly after.

User crank-the-music has been on eBay since 1998. The user has 100-percent positive feedback.
Below are comments from the seller on eBay.
Crank-the-music : We crawl through an awful amount of junk to find a diamond. Thanks for your interest.
Crank-the-music : The paper was found in a pile of 70-80+ year old paperwork of a person (chemist) who had passed 20+ years ago. There is no COA - just an old hand-typed piece of paper date Jan 15, 1943.
Copyright 2013 WGCL-TV (Meredith Corporation). All rights reserved.