Man says he found Jesus - in a local newspaper
Posted:
Updated: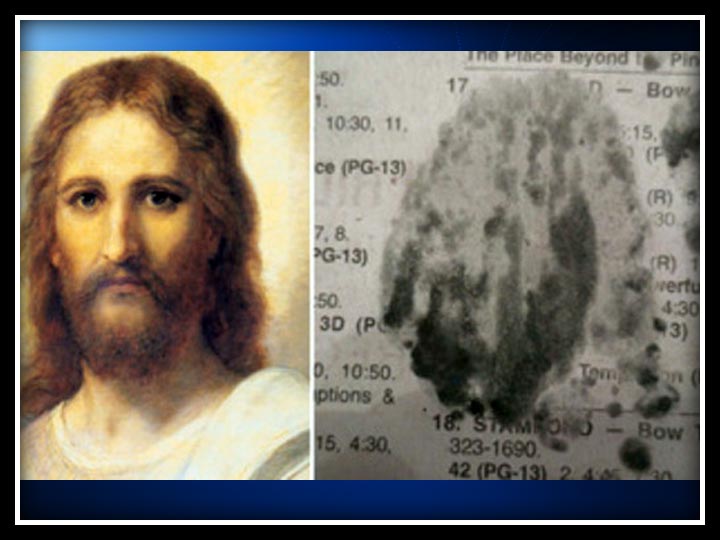 The Norwalk Hour provided this picture
NORWALK, CT (WFSB) -
A Norwalk man skimming through a local newspaper said he found an image of Jesus Christ in a blob of ink.
Joseph McCaffrey told the Norwalk Hour he was reading the May 2 edition when he mentioned to his wife that the movie section had a large blob of ink.
"I didn't see it at first, but as I was reading the paper, I said to my wife the movie section was blotted out with ink and held it up for her to see," he told The Hour. "And she shouted, 'It's Jesus!'"
According to the article, McCaffrey then snapped a photo of the holy sighting to show his friends and family.
"Some see the image, some don't," he said in The Hour. "The overwhelming majority said they could definitely see Jesus."
But McCaffrey has a few questions.
"If Jesus is really trying to send me a message, I wish he popped up in the Lotto section instead," he told The Hour. "Does he want me to see a movie?"
McCaffrey said he and his wife do attend church, aren't overly religious, but feel as though they are spiritual.
But, he told The Hour, regardless of what other people see in the ink blot, he's going to hold on to the image for a long time.
"It's definitely interesting," he said. "I'm not going to make a shrine for it, but we do plan on holding onto it."
To read the entire article form The Hour, click here.

Copyright 2013 WFSB (Meredith Corporation). All rights reserved.