Arizona cities get high/low marks for fire safety
Posted:
Updated: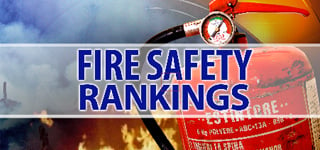 (Source: CBS 5 News)
PHOENIX (CBS5) -
House fires can break out without warning, any day or night.
CBS 5 News wanted to find out which Valley fire departments are best equipped to handle a fire emergency in local neighborhoods and which communities are more at risk.
CBS 5 News dug up almost every Valley city's ranking when it comes to fire response and suppression.
The rankings are given by a company out of New Jersey called ISO, which provides detailed fire safety information to establish insurance rates across the country.
"They take into consideration training, apparatus, infrastructure, water in a community and terrain in a community," said Colin Williams, with the Rural Metro Fire Department. "A whole gamut of things go into an ISO rating."
The 911 systems, response time and fire hydrants also play a key role in a how a community is rated.
But it's not just the number of fire hydrants, it's how often they are tested.
Scottsdale Fire Capt. Dwayne Bader said that every one of the city's fire crews is responsible for inspecting fire hydrants, as part of their everyday duties. He went on to say it's the only way to maintain Scottsdale's 11,000 fire hydrants.

"If you have a house fire and have a hydrant two or three doors down, we need to assure them that the hydrant is always working at its full capacity," Bader said.

So how do Valley cities and towns stack up when it comes to fire safety?
The ISO rankings are done on a scale of one to 10, with one being the best and 10 the worst.
Glendale and Tempe came out on top with a two ISO rating.
Mesa, Chandler, Sun City, Peoria, Apache Junction, Surprise, Carefree and Scottsdale had a three ISO rating.
Goodyear, Queen Creek, Gilbert and Avondale had a four ISO rating.
The Valley community with the worst ISO fire protection rating was the town of Cave Creek, which scored a five ISO rating.
The lower ranking is directly related to fewer fire hydrants in Cave Creek neighborhoods and a reduced water supply, which is why Rural Metro fire crews always bring a tanker full of water when they respond to fire emergencies in and around Cave Creek.
Some Cave Creek residents said it comes with the territory when you live in a more rural community.
"I don't know, it's part of the ambience of living here," said Cave Creek resident Cal Nelson. "You don't have as many facilities as you do in town, but fact of the matter is, it's a beautiful place to live."
Rural Metro officials said their rating has actually improved over the past couple years and the town is working to install more fire hydrants and improve the water system.
The city of Phoenix did not have an ISO rating.
City officials told CBS 5 News that because of the city's size, they have not received a recent ISO ranking.
However, the Phoenix Fire Department has received national recognition for its response time and fire protection procedures, and fire officials said the city's ISO ranking would be a two.
Copyright 2013 CBS 5 (KPHO Broadcasting Corporation). All rights reserved.